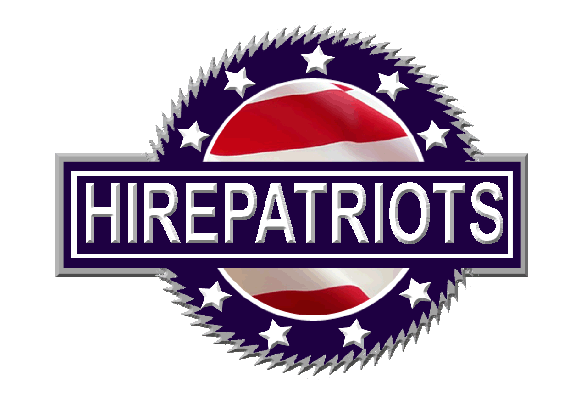 HirePatriots' primary mission is the employment of US military, veterans and their spouses. We look for innovative answers and more effective methods for providing them temporary, part time and full time employment. HirePatriots is a program of Patriotic Hearts, a 501C3 non-profit (EIN 20-8599179)
Our unique One Day job board for residents to hire local veterans and their spouses to help them with chores and repairs around their homes and yards has been tremendously successful! Over 50,000 US military members, in and out of the armed forces, have found work and extra income from that simple but powerful solution. Our unique One Day jobs program is a nationwide community project that exists in 40 states.
HirePatriots.com also provides a Careers job board for companies to let US veterans know about their open positions. This is valuable to companies because so many job seeking veterans come to our site every day looking for work. Out of an estimated 346,000,000 US websites, HirePatriots.com ranks 28,000. We are assisting US veterans 24/7/365.
In addition to our website, blogs and job boards, HirePatriots goes further. We provide a faster and more effective means to join the right veterans with the right companies. It is vastly better than job fairs, advertising and paying expensive recruiters. They are "US Veteran 'Work Ready' Hiring Events." If a company needs to fill multiple positions, they send us the details of the job and their company. We then go and find transitioning US military members that are qualified and who want to work for that company and bring them to a venue for that company to begin the hiring process. This program is for companies with 10 to 100+ immediate positions to fill.
HirePatriots knows that military marriages endure tremendous stress. It is natural that some of these marriages experience more conflict than others. This can impact a veteran's ability to work well. HirePatriots offers 3 day, all expenses paid Military Marriage retreats regularly too.
HirePatriots is eager to meet any patriotic citizens and companies that want to help us get our sensational programs started in their community.
Mark & Tori Baird
760-730-3734
From President Bush: The Congressional Medal of Merit
From President Obama: President's Volunteer Service Medal
From San Diego: The Visionary Award for Creating Economic Development
From the Chamber of Commerce: The Extra Mile Award
From ABC TV: The Leadership Award
From U.S. Veterans & Families: Liberty
Authors: An American Crisis: Veterans' Unemployment
Authors: The Patriotic Business Plan: Strategies for Sensational Success
Share us on