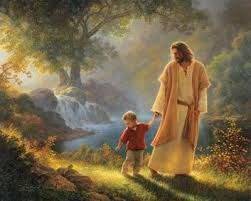 I realize that not everyone believes in God. And I know that, of the many millions that do believe in God, not all believe in the Christ revealed in the Bible. And I respect them and care about them. However, for me, faith in my God was never an issue. I had a supernatural revelation as a small child. It is incredible to many, but it is reality to me.
My parents did not attend church. However, one of them would wake up when I was little and drop me off at a church for use as free babysitting throughout the three services from 8 am to noon. I only remember one thing about the first church. It was one morning in my Sunday school class that met in a basement room. I was four years old.
The children and I were sitting in small chairs facing towards our teacher and another lady who she introduced. I do not recall a single word that was said. I assume that this visitor shared about Jesus Christ. It was possibly the very first time anyone had told me about asking Jesus into my heart. I just recall being filled with an all-consuming urgent need and brokenness that made my body quake and my eyes flood with tears. When the lady went to leave our room, I leapt from my seat and ran and held tightly to her skirts and cried out, "Jesus! Please give me Jesus!"
This anonymous woman took me into the hallway and then into a small alcove where we sat together and prayed. I felt the presence of Jesus Christ fill my entire being. I knew that God, through the indwelling of his Holy Spirit, now resided within me.
This faith has been a constant source of strength and peace throughout my life since. It is also a steady force of change inside of me. I am always encouraged to act in a loving way. And whenever I fail to do so, this force convicts me and drives me to repent, apologize and to keep trying.
"This means that anyone who belongs to Christ has become a new person. The old life is gone; a new life has begun!" 2 Corinthians:5:17
Mark Baird
Share us on