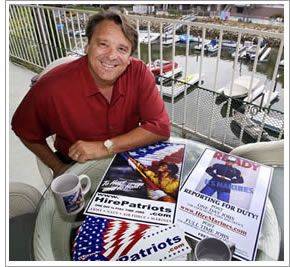 I have been helping US veterans since 1970. Mostly, I worked with Vietnam veterans. I mostly was involved with counseling and employment. And I still do that now but much more effectively since the advent of the Internet. I estimate that I have helped in excess of 100,000 US veterans so far.
My goal is to end US veteran unemployment. It can be done. The missing piece, I believe, is the full participation of the American public. The government and US corporations are doing an outstanding job in getting veterans hired. But we still have 700,000 unemployed veterans, with another 1.3 million being pushed out next year. In truth, there are not that many sustainable jobs available. So what is to be done?
My simple
One Day job program
has proven to be amazingly successful. Thousands of active duty and transitioned veterans find One Day jobs here in San Diego every month. They depend on these jobs to keep their heads and their families' above water. I am trying to spread this program all across America. I am in 33 states.
I advocate for US veterans on TV, radio and in the Press and on the Internet. I have written a best selling book: 
An American Crisis: Veterans Unemployment
. I work with hundreds of companies helping them to hire US veterans.
HirePatriots.com
is one of the most popular websites in the US and the world, particularly for being a niche website. We are in the top 40,000 in the US and top 200,000 for the world.
Do you want to talk?
Mark Baird
760-730-3734
Share us on