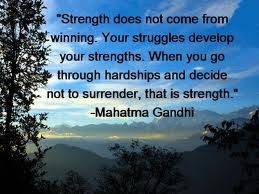 Here is an update about what Tori and I are encountering as we have moved out of our home and into an RV. First, I want to talk about hardship. Let me begin by telling this true story.
My favorite Christian is the Apostle Paul. He was a persecutor of Christians, involved in killing some and arresting many more before he fell from his horse and heard Jesus calling him to serve others.
Paul gave up everything he had to follow Jesus. And he was despised by all of the Jewish nation for doing so. He was beaten often. He was stoned and left for dead. He was shipwrecked and had to stay afloat for 3 days before reaching an island. Much of his life was spent in dungeons and prisons. And his life came to an end in the Roman Coliseum. Yet, he insisted that in every circumstance that we "rejoice and give praise to God always!" He said that in all circumstances we should "be content."
Our first day out of our home we drove a hundred miles to pick up an RV that we paid thousands for and then another thousand to have all fixed up and ready for us to live in. When we took possession of our RV, the first thing we had to do was to empty the sewage tank that was left full. But the sewage hose was shredded. So we endured a night with a very putrid smell. Then we discovered that our generator and our air conditioning did not work. We called a mechanic. He worked for a couple of hours today on our RV. He got the generator going. He said that he had charged all of our batteries and that we would have 3 days of energy. An hour after he left, the generator stopped working, all of the batteries are dead and the RV will not start. Now, we are dead on the side of the road with no more money left to pay for our RV to be fixed! In fact we cannot even afford to have it towed.
Now, I am a servant of God. I consider this world to be unreality. It is temporary and will not last. God says that a new world is coming on which he will live with us. This world will be renewed. It will be better than the Garden of Eden. The lion will lay down with the lamb. And we will not practice war anymore. A person 100 years old will be considered a child. God will wipe away all of our tears and we will experience the fullness of his immense love for us. — That is my reality!
So when people attack me for no cause; or when I go through really hard times, how should I react? Should I curse God? Should I blame him? — Or are troubles and hardship just the universal human condition? We all experience pain and suffering in this life. No one escapes. No matter how rich, intelligent and beloved. Jesus said, "In this life you will experience suffering. But be encouraged, I have also experienced suffering on earth, even to a crucified death upon a cross! So be encouraged and take strength. I have overcome the world. And remember this: It is through enduring our trials and hardships with praise that we become holy!"
It is midnight. I am exhausted. But I am in a bar using their electrical plugs to charge my cell phone and computers. When they close, we will go back to our completely dead RV and receive whatever God has for us tomorrow with thankfulness, patience, strength and praise. — Thank you Jesus for this opportunity to suffer, endure and to prove my faithfulness and love for you! Praise God.
In His service,
Mark Baird
CEO: HirePatriots.com
Chairman: Patriotic Hearts
mark@hirepatriots.com
760-730-3734
People Magazine's Heroes Among Us
Past Chairman: CA Economic Council
Past Secretary: United Veteran Council
From President Bush: The Congressional Medal of Merit
From President Obama: President's Volunteer Service Medal
From San Diego: The Visionary Award for Creating Economic Development
From the Chamber of Commerce: The Extra Mile Award
From ABC TV: The Leadership Award
From U.S. Veterans & Families: Liberty
From Jesus Christ: Purpose & Eternal Life
Share us on