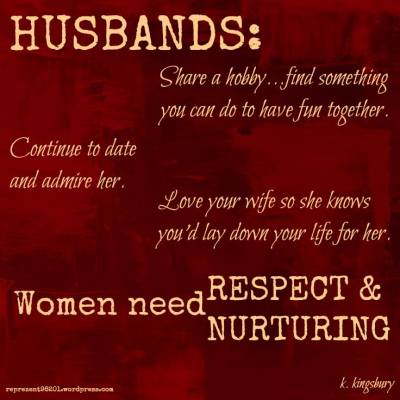 I believe that everyone sets certain rules and boundaries in any and every relationship. In marriage, both partners must be completely honest about their expectations of the other and what their personal boundaries and rules of communication are. That way, when a mutual choice to get married and to stay together forever is made, both partners know what the other expects of them.
As a Christian, the roles of a husband and a wife are well established. So for me this is a critical conversation that is rehearsed in the New Testament. But regardless if you are a Christian or not, sharing honestly with your spouse or fiance what you believe your role and theirs' is to be in your marriage is absolutely essential before you join together.
I strongly suggest that you write this agreement down before marrying. That way, you will have a signed document in which you both agree to abide by certain rules of behavior and communication, because inevitably both partners will break their covenant in little and maybe big ways. This agreement will give you a basis for discussing violations and for keeping on the "straight and narrow."
Know this ahead of time: A lot of forgiveness and letting the proverbial "bad water" to "run under the bridge" is required. No one is perfect. We will all make mistakes and break our pledge. Inevitably, we will fail to abide by what we believe to be the right thing to do. So understanding about your partner's weaknesses and temptation tendencies is required.
We also need to be fully aware of our partner's anger triggers. Every one of us has them. They are often related to experiences from our early youth; or, they may be from ingrained beliefs and principles, intrinsic or learned. – For me, I need space sometimes. I need to be left alone, especially when my anger trigger has been pulled. If my significant other fails to respect this impulse and refuses to leave me alone, especially after repeated entreaties to do so, I will probably explode and insist upon it. That is my character defect to which my lover needs to be sensitive. – Unyielding bickering, rudeness, disrespect and disobedience can make me lose my self-composure and say and act in a way I regret later. And so I earnestly endeavor to make my children and my wife fully aware of this and plead for them to be sensitive to it.
My expectations for the wife I chose are based on the Bible: "obedience, respect and submission." Nowadays these qualities in a woman and wife are discounted and thought to be demeaning.  That is because the world does not believe in the God of the Bible. He is a joke to them. However, because I am a true believer in Jesus Christ, every word it contains is more important to me than anything that anyone else says.
I believe that the Creator of the universe knows how to make a marriage work perfectly between a man and a woman.  And I believe that he has given us all of the instruction we need to have a blissful, edifying, romantic relationship with our spouse for as long as we live.
Of course every eternal union should begin and be founded upon love. Here is God's description: Corinthians 13: "4 Love is patient, love is kind. It does not envy, it does not boast, it is not proud. 5 It does not dishonor others, it is not self-seeking, it is not easily angered, it keeps no record of wrongs. 6 Love does not delight in evil but rejoices with the truth. 7 It always protects, always trusts, always hopes, always perseveres.8 True love endures forever."
Husbands, women are not built like we are on the outside or on the inside. Never assume that a woman's reality is the same as yours. They do not assimilate and respond to life the same way we do. They run on feelings much more than reason. That means that they do not need to explain their emotions or their emotional reactions to circumstances. So men need to let go a lot and just accept their women as they are. Realizing that the way they respond is not like we would many times is absolutely critical to an enduring and a happy marriage.
We are the stronger sex in many ways. And many women that love us rely on this quality of ours. They expect guidance, support, encouragement, protection and security. They expect us to walk "point." (For non-veterans, this is the person that walks far enough in front of a reconnoitering squad or platoon. If there is a booby trap or ambush, they suffer the consequences, instead of those they are protecting.)
But women will rebel against this ingrained instinct in their husbands sometimes! It is a natural and a masculine impulse in men that women will never fully comprehend. We all have a sinful, disobedient nature.  It is not natural or instinctive to be good all of the time. It requires tremendous strength, faith and commitment for any wife or husband to behave as requested by God.
Contrary to whatever the popular philosophy and mores and US Court decisions are, men and women are not a "unisex." Little boys and girls who have been confused by parents, society, and the radical Left about their sexuality are victims of an ungodly and unnatural world that is upside down and out of control. It is a Godless world where everyone seeks their own and not God.
Listen to truth about how we should treat eachother: "22 In fact, some parts of the body that seem weakest and least important are actually the most necessary. 23 And the parts we regard as less honorable are those we clothe with the greatest care. So God has put the body together such a way that extra honor and care are given to those parts that have less strength. 25 This makes for harmony among the members, so that all the members care for each other. 26 If one part suffers, all the parts suffer with it, and if one part is honored, all the parts are glad."
Over all, we are all members of Christ's body. And as his "church" we need to control our natural inclinations and desires and wants. We must defer to the desires, wants and needs of those we serve. As husbands and wives that is eachother. We must always put others' happiness and needs above our own.
So when the scripture states that wives must respect, submit and obey their husbands, it is a heavy and tremendous responsibility for husbands to honor this sacrifice of ego and to respond with consideration with their wives.  We husbands must always balance our authority, strength and responsibilities with God's will, love and insistence on mutual respect. We should always keep in mind that a woman's needs, desires and expectations are not always ours.  So to live a peaceful and rewarding relationship with any woman, men must be willing to reach beyond their own instinctual wisdom and to make room for their spouse's. God says for us to live with them "in understanding, in peace and love."
So when God says to men that their wives should submit and obey and respect them, it is not meant as an edict for women; but, it is a statement of man's role and responsibility. In the same part of the Bible God states, "Husbands love your wives."  And he commands us to love our wives exactly as God love us. If necessary we should be ready to give our lives for them. And as death records always indicate, men instinctively do this. On average, we die 10 years before our wives. We naturally want to protect and provide for our wives. We give our lives doing so. So wives, have faith in your husband's innate desire to 'cover' you with his arms of love. God can and will control your husband's behavior. Put faith in God and in your husband. Never fail to pray throughout each day for your spouse.
Men and women, husbands and wives both have a difficult challenge ahead of them. Much of it requires a denial of our own personal wants and needs.  Sacrifice is the key to enduring happiness. But most importantly, we must trust the God who created us and obey his directions for our mutual love and happiness.
Mark Baird
Share us on