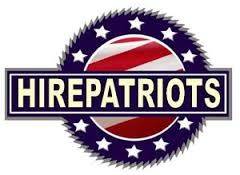 We have an outstanding and innovative method for you to reach the US military that is being used by dozens of companies and schools across America:
We have created variety of innovative and effective options for you to use to recruit US veterans. We also have the standard methods of posting your banner, putting you in our newsletter and posting on our employment pages.
I have written a book on how to explode a company's marketing and recruiting. It is how we have helped hundreds of companies in the last ten years.
The Patriotic Business Plan: Strategies for Sensational Success.  All of the active duty and recently transitioned US military will go to your website daily. They will find out all about you.
People Magazine
 featured the HirePatriots program and selected  it has their America's 
Heroes Among Us.
 You will have opportunities to be on all the News stations, newspapers and radio stations for free by using our methods.
We can permanently solve your recruiting needs, without a doubt. Check out some our free media attention 
HERE
.
At your service,
Mark Baird
People Magazine's "Heroes among Us" 
From President Bush: The Congressional Medal of Merit
From President Obama: President's National Leadership Medal
From San Diego: The Visionary Award for Creating Economic Development
From the Chamber of Commerce: The Extra Mile Award
From ABC TV: The Leadership Award
From U.S. Veterans & Families: Liberty
Author: An American Crisis: Veterans' Unemployment
Author: The Patriotic Business Plan: Strategies for Sensational Success
Share us on