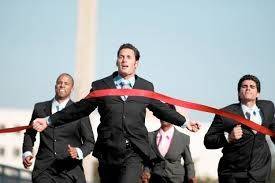 A Strategy for Sensational Success
This is an innovative strategy that has been proven to be sensationally successful. The Patriotic Business Plan is a new, 21stcentury method of attracting and securing loyal clients. This plan shows you how to build a cause marketing approach that incorporates the techniques of the previous century and the technological innovations of this new millennium. It builds a huge grass roots following of fervent supporters; gets your business multiple, free appearances on local TV, radio and features in the press. You will also gain thousands of 'followers,' 'friends,' and 'connections' on the social networks. Your website will be one of the most popular in your region.
The business world is a competitive world. There is a defined customer base and every company seeks to get the biggest part of that 'pie.'  This is the challenge that every business faces. In order to survive and grow, you must cut away some of your competitors' customers and make them yours. The Law of Nature applies: Survival depends on being the best.
Here are some of the benefits of following the Patriotic Business Plan:
1) You represent the US military, veterans and patriotism.
2) You give local residents and businesses the opportunity to participate in helping US veterans get employed and back on their feet.
3) You represent a popular and award winning non-profit that has won accolades from Congress, two US Presidents, and has been featured in People Magazine and on national TV.
4) You have a HirePatriots.com website for your business clients to hire US veterans.
5) Your Client banners banners will be displayed and a permanent page about them will be on your website.
6) They will see you on local TV, hear you on the radio and see you in the newspapers and on the social networks.
7) If you follow The Patriotic Business Plan, you will become one of the most popular people and businesses in your area.
8)  You will be sought out by local politicians, assemblypersons, congressmen, senators, local mayors and supervisors.
9) You will be asked to speak at many local chambers of commerce, clubs and meetings.
10) You will be sought after by customers and clients that appreciate your community involvement and patriotism.
You will WIN! Your competitors will lose.
Your success will hinge on two things: Following The Patriotic Business Plan; and doing outstanding work!
At your service,
Mark Baird
ceo@hirepatriots.com
760-730-3734
People Magazine's "Heroes Among Us" 
From President Bush: The Congressional Medal of Merit
From President Obama: President's Volunteer Service Medal
From San Diego: The Visionary Award for Creating Economic Development
From the Chamber of Commerce: The Extra Mile Award
From ABC TV: The Leadership Award
From U.S. Veterans & Families: Liberty
From Jesus Christ: Love, Joy & Life
Authors: An American Crisis: Veterans' Unemployment
Authors: The Patriotic Business Plan: Strategies for Sensational Success
Share us on