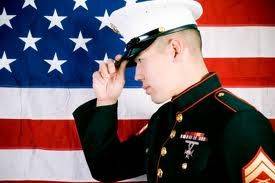 Off Duty Jobs 4 US Military, Veterans & Spouses
HirePatriots.com offers a One Day job board for US residents to post jobs for free. Whenever you need an extra hand with chores, repairs, cleaning, hauling, caretaking etc., hire a local US military man or woman. Most of them need the extra income. They will be grateful. These jobs are a real safety net for them and their families. It is a very practical way to say, "Thank you for your service to our country."
Go to HirePatriots.com. Click on the blue button that says, One Day Jobs.  There is a short registration to create your password. Then choose from two options in green buttons: Jobseeker or Post a New Job.
Residents: Just say what state and city you are in. Describe your job and how much you are paying an hour or by the job. Leave your first name and phone number. – That's it!
US Military: Register by clicking the green button that says,"Jobseeker." Then scan the jobs and find one that is right for you. Call the phone number and secure the job! (Be ready to prove your military status with your DoD identification or your DD214.)
Great Tip: Many veterans develop a big book of business from referrals. They are able to work and earn money whenever they need to. These are the ones who show up on time, dressed cleanly and standing tall and straight. They always use military courtesy and answer every request with "Sir, Yes, sir." Or "Ma'am, yes ma'am."
Everyone: HirePatriots will give your community its own HirePatriots.com website or job board. The homepage can be all about your neighborhood in America. We will put any appropriate pictures, banners, copy and video that you give us on your HirePatriots.com website, regularly. And it has a blog page for you to post new and helpful information. — Some US veteran owned and military friendly business have already created HirePatriots job board for their areas. You can check for one HERE.
This simple One Day job board has helped so many people in so many ways: Read some of their comments HERE.
Show how much you care about your local US military, veterans and their families. Get your community its own, free job board for your town's veterans.
Contact HirePatriots today: Click HERE.
Thank you!
Mark Baird
Share us on