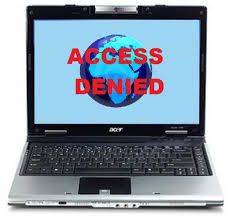 Proposed FCC rules would allow rich corporations to buy an Internet fast lane, while the rest of us would be forced to use a slow lane.

Tell the FCC to stop corporations from controlling the Internet.
Readers: This is an email I received. It alarms me enough to share it with you. Cable providers are now requiring us to pay for their service before letting us watch more and more things on the Internet. Here is an example: Univision, the Spanish station that was showing the World Cup for free, was forced by these cable providers to stop showing the World Cup for free unless the viewers were paid subscribers to their services. Take heed!  — Mark Baird
Here's one incredible thing about the Internet: once you get on, everyone gets an equal opportunity to use it. But Verizon, Comcast and other big US corporations are determined to change that, and kill an Internet that's open for all.
Internet service providers (ISPs) like Verizon and Comcast are pushing the Federal Communications Commission (FCC) to make changes that would create an Internet "fast lane" — where websites would need to pay ISPs a premium to ensure high-speed connections. ISPs would have the right to choose which services get fast traffic and small businesses that can't afford premiums could be slowed down to a crawl.
But the fight to save the open Internet is heating up. Consumers and a handful of companies including Netflix are standing up to the ISPs' profit scheme. If ISPs like Verizon prioritize some traffic over others, it will hurt everyone — consumers, start-ups, and small businesses alike.
The FCC is asking the public right now what to do — and unless they hear from us, the FCC will hand over control of the Internet to Verizon and Comcast.
Support equal and open access to the Internet by submitting a comment to the FCC now: Say no to a corporate-controlled Internet!
It's not just Netflix speaking out. Just recently, the US conference of Mayors passed a resolution supporting net neutrality. Many organizations and start-ups have been leading the charge against the FCC's consideration of a prioritized internet where cash reigns supreme, defending both consumers and web-based companies from paid prioritization and discrimination.
They're fighting the FCC proposal, which threatens websites that fail to pay ISPs a premium with lag time, disrupted connections, and at worst, being blocked from consumer access.
We don't need that same corporate largess dictating how we access the internet. Let's speak out against corporate schemes to create two speeds of internet. Let's tell the FCC we want equal and open access to the Internet.
Submit a comment to the FCC to tell Chairman Tom Wheeler to support net neutrality.
Thanks for all that you do,
Paul, Marie and the rest of the team at SumOfUs.org
Share us on