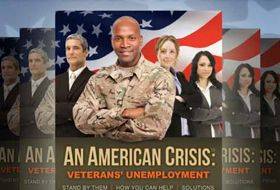 The new book, "An American Crisis: Veterans' Unemployment" is sweeping the country! It has attracted the attention of major corporations and is being seriously considered as a required part of the curriculum for the new Transitional Assistance Program for the US military.  It can be found in Barnes and Nobles book stores, in Christian book stores and on Amazon.
An American Crisis: Veterans' Unemployment is a book for US veterans seeking employment, starting a business, improving their education, and for the businesses that want to hire or help them. 24 authors have collaborated to produce this comprehensive guide. A General, Colonels, a Captain, a Lieutenant, combat grunts, a military spouse and veteran advocates share their personal experiences and struggles and advice. This is a very entertaining and informative book.
Our national sales manager is Zack DuBois. He is doing an outstanding job! Recently, he arranged for the book to be in 500 airports across America. Here is a picture of his booth today at Fort Campbell, KY.
http://www.veteransunemploymentbook.com/
Share us on