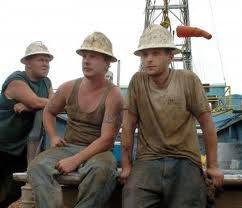 HirePatriots.com has been selected by numerous companies in the oil industry as their hiring initiative for US veterans. On March 12, Mark Baird, the founder of HirePatriots.com will be the keynote speaker to 1500 oil related companies. They are eager to know how to hire US veterans to fill their multitude of positions.
One of the industries that want to hire US veterans is the Specialized Carriers and Rigging Association. They drive and manipulate extremely powerful tractors that are able to move objects that weigh as much as a million pounds! This requires a coordinated team of people dedicated to precision. Who better to fill these positions than veterans?
Last week we spoke with an oil related company that cleans oil derricks. This is a tough job. But it pays extremely well. A US veteran in Michigan who has been struggling to find employment took one of these jobs last week. He will make at least $80,000 a year. He will probably make more because he has signed up early and has time to be trained to be a manager.
The oil industry has thousands of jobs. But many of these jobs require laboring in the hot sun or in cold temps. A lot of people who are not used to such work quit without even giving notice. The oil industry is frustrated with hiring such people. They are turning to US veterans because they believe that veterans are more trustworthy and honorable. And I have assured them that most are.
If you have a desire to make good money with a team of others veterans. If you are not afraid of getting dirty and sweaty. If you are a 'man's man' whose word is his bond, contact me and I will send your information on to these companies. Try to respond before March 12 so that I can distribute your resume on that day.
Sincerely,
Mark Baird
CEO: HirePatriots.com
Chairman: Patriotic Hearts
mark@hirepatriots.com
760-730-3734
Share us on