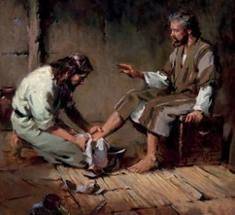 Every good US military NCO and officer is also a 'leader-servant.' They all care much more about the lives of those that follow them than their own. I have met many of these outstanding men and women. They inspire me.
My wife, Tori, and I are also servants. We serve America's military, veterans and their families. And because of our unique approach, we also assist businesses, employees, homeowners, children and senior citizens too. Through our non-profit Patriotic Hearts and our one-of-a-kind veteran hiring program all of these people are helped and strengthened.
In order to be an effective servant-leader one's heart must overflow with love towards those in their care. This result of this affection makes the needs of those embraced by our hearts far more important than our own. Any sacrifice we make on their behalf is never done with regret, but with great joy!
I am not suggesting that servants lives should be harassed by financial struggles, as we are experiencing now. No. It is very difficult to help other when you are in dire need too. However, in our case the claws of the wolf scratching at our door is just giving us a deeper empathy and conviction to continue our efforts to assist struggling veterans.
We have been committed to this endeavor and purpose for a decade. We have built a nationwide outreach with over 100 chapters across America. We hold job fairs, military marriage retreats, counsel, mentor and advocate tirelessly. We have developed 14 critical and free programs that helps tens of thousands of veterans every year. And HirePatriots is the key element to solving the unemployment that has plagued those who answer our country's call to duty since our nation's inception.  So now it is time for us to be funded.
If those that benefit from our efforts would send us a donation of just $25 a month it will go a long ways to our achieving our mission to create a nationwide safety net for US veterans and their families.
And if patriotic companies would set aside  a portion of their profits and donate it to our non-profit we will be able to help millions of Americans every year! We will make America a better place for everyone. And we will provide a foundation for every military member and veteran that will endure for generations.
Join us in this great cause. Become a Patriotic Heart! Try to help us in some way each month. And if you are a business that practices 'corporate social responsibility (CSR) select our 501c3 as a charity that you support.
Share us on