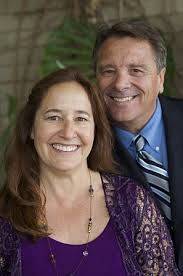 More than anything else what gives us the greatest pleasure and strength is companionship. It is critical to contentment. Above all of its forms: friendship, parenthood, blood relations, neighbors, and esprit de corps, marriage is supreme. Being faithfully committed to another, always caring more about them than yourself, loving them with all of your heart and soul through the good, bad, and impossible, holding fast to each other through all storms and blessings is the greatest of all earthly joys and delights that we can know.
When I look into my wife's eyes, I see an unimaginably deep love for me looking back. Her face shines with contentment. She is beautiful! We have been married for a long time. Every year has been better than the one before. One of the reasons we are Christians is because of the hope of being together even after this life. Tori and I are wound together like intertwined vines. Over the years, we have become truly one. Our companionship is irreplaceable. The inevitability of living without the other is a future too horrible to consider, so we don't. Our days together are much too delightful to be marred by harsh realities.
No matter what generation or age, hard rain will fall. No one escapes getting drenched in suffering every once in a while. Those days are destined to come. We take them like surfers plunging through breaking waves. We hold our breath, dive deep and wait until the danger passes. But that does not deter us from the joy of rising up and riding those waves again! Having a set apart, special someone to share the ride of life is the greatest earthly pleasure we can know.
Enjoy life. Enjoy others. Enjoy creation. Love your spouse!
Mark Baird
Share us on