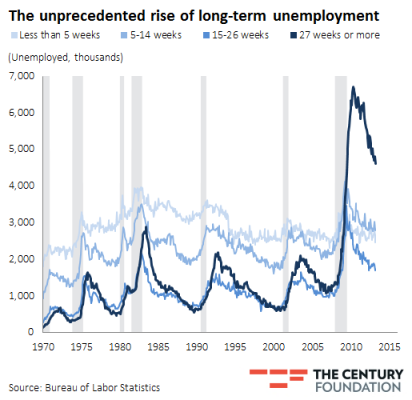 One of every ten Americans who lost a full-time job since 2007 have not found another full time job!
The facade of a recovering economy reveals that the drop in unemployment is due to exactly what many such as myself have always suspected. New research by Alan B. Krueger, the former chairman of President Obama's Council of Economic Advisers,  found that only one in 10 workers who had been unemployed over an extended period of time in a given month between 2008 and 2012 had returned to full-time work.
Instead we find that most Americans who have lost their jobs since the Great Recession are surviving on multiple, low wage, short-term and part time jobs. Advanced college degrees and years of experience in a field appear to be of no help, particularly if you are over the age of 50. It is a story shared by millions.
A recent story in the New York Times profiles this man: Mr. Gorelick, 57, who lost his job with a large marketing firm. He is now working three jobs, driving a cab and picking up shifts at Lord & Taylor and Whole Foods.
Mr. Gorelick, his family's primary breadwinner, has struggled to support his family has fallen into credit card debt, wiped out his retirement accounts and even contemplated selling his house. He is now earning less than half of what his expired unemployment benefits paid.
Our Congressional representatives seem to be unaware of this deepening crisis. They have cut unemployment benefits from 72 weeks to 26 weeks in most states. However, they have allowed for the funding of career counseling. But despite millions of dollars and months of intensive career coaching this effort has been shown to be ineffective in getting the unemployed into new jobs. The lone positive result from this effort has been that the enrollees in the coaching program got less depressed and found encouragement to continue their search.
Gene Sperling, the recently departed director of the National Economic Council says, "This form of unemployment has its own perverse dynamic, and public policy should be trying to prevent devastating, negative cycles that gain momentum if left alone. "There are models that work," he said. "But god, considering the magnitude of this problem, you worry that it is not enough."
US Veterans: Once again, the hardest hit Americans are US veterans, particularly those who serve for 20+ years and get out in their 40s. "Companies discriminate against the already out-of-work says," Rand Ghayad, a researcher with the Massachusetts Institute of Technology. He performed a study showing that businesses were more likely to hire a working candidate with no relevant experience than a long-term jobless candidate with relevant experience. Unfortunately military service is rarely considered as "working experience" among US employers. HirePatriots.com's One Day job board for US military, veterans and their spouses remains as the most potent response to this crisis. US residents can hire a local US veteran to help them with any chores and repairs that they need help with for a short term. Tens of thousands of US veterans have been supported by this simple program. Read their comments HERE.
Mark Baird
Read NY Times article HERE.
Share us on