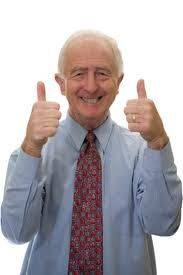 There are a lot of seniors that survive on social security.  So I was delighted when I got this email today. When we receive news like this it is like a faulty parachute suddenly opening. We are elated and re-inspired to continue the good fight!
I needed to have a toilet installed upstairs in an old 600' home I live in. I am too old now to walk downstairs several times a night. I have severe arthritis in both feet and I never know when either or both ankles will suddenly give out and collapse. Putting a toilet upstairs is a matter of life or death for me.
I called several plumbers in my area and got multiple estimates. Because my plumbing pipes are on the opposite side of my home where the toilet needs to be, all of the plumbers told me, "It will have to cost a lot more than usual." The lowest bid I got was $1500!
I live off of $900 a month. My mortgage is $490. There is no way that I will ever be able to pay $1500. But thank God for HirePatriots.com! I found a Navy Petty Officer that answered my ad. All I could afford was $250, plus the cost of the toilet. I was certain that no one would bother to apply. But I had 15 responses in one day!
I hired the first one that called. But I took down the contact info of all the others. And I felt sorry that I was not able to hire them too. They all sounded so eager to come over and do the job.
The veteran I hired came over with a toilet and plumbing pipes in the back of his truck. It took him less than 5 hours to install my toilet and connect it to my sewage drain. He refused to accept any more than $100, and he apologized for that saying, "I generally never charge more than $12 an hour. But I'm short on rent right now; otherwise, I would have just charged you for the pipes and my gas. I picked up the toilet at a remodeling site for free. "
Wow! Hirepatriots you are a life-saver. And meeting this veteran has changed my life. I had never actually ever met or talked with an active duty military person before. He was the most courteous and generous person I have ever met. Thank you. Thank you, HirePatriots!
Virgil "Blu" Whitman, San Clemente, CA
Get a HirePatriots chapter started in your area: Contact Cedrick Brown: partnerwithcedrick @gmail.com
Share us on