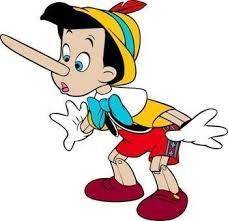 We all know this to be true. Seemingly, every one lies nowadays. It is the way of the world. Certainly we know that politicians lie constantly. They make promises that they know they will never fulfill. Mechanics take advantage of our ignorance and charge for repairs that are completely unnecessary. Doctors insist that we have surgeries that we don't need. Dentists too. Bankers and mortgage brokers, contractors, car salespersons, etc. The list is endless. Who believes that the ads we read and see are telling us the real truth? "Buyer beware!" This is an adage that we must live by.
Why is life like this? Greed. It is how to make more money.  And besides the comfort and things that money can buy, it also gives us power. Everyone knows that our justice system is based on money. 'The richest man wins' is almost always the case. What chance does any honest poor person who cannot afford legal representation have against a rich liar with a lawyer in our courts? None.
Of course, this is not new. The world has always been like this. How many wars have been fought for some noble principle, when in fact it was all about greed and power? Library shelves are full to the brim with such historical accounts.
Not all people are like this. Some of us strive to be honest, regardless of the cost. Being human, we also enjoy comfort, pleasure, money and power; but not at the cost of our conscience and souls. We are NOTW (not of this world.) It is difficult to compete in business when you are the only one following the rules and all of your competitors are using deception and robbing buyers blind.
There are two roads to follow in life: This is what Jesus says, "Enter through the narrow gate. For wide is the gate and broad is the road that leads to destruction, and many enter through it. 14 But small is the gate and narrow the road that leads to life, and only a few find it."
HirePatriots and its business members are a fraternity of authentic, conscientious, decent, genuine, honorable and virtuous US veteran business owners. And in our agreements with them we stipulate that any behavior to the contrary will result in them being removed from our list of endorsements and any association with our name and efforts. All of us are earnest believers and committed to behaving in a way that please our Creator. Our mission is to serve America and to support our US military, veterans, their spouses, and families.  
If you are not of this world. If principles are more important to you than dishonest prosperity. Then join our association of like-minded business people and supporters. View a list of our programs HERE. And a list of our business members HERE.
We meet by conference call on the first Wednesday of every month at 5PM Pacific. Please contact me if you are interested in being an honored member of our Patriotic Hearts association. We are a 501c3 non-profit.
At your service,
Mark Baird
ceo@hiepatriots.com
760-730-3734
People Magazine's "Hero among Us" 
Author: An American Crisis: Veterans' Unemployment
Author: The Patriotic Business Plan: Strategies for Sensational Success
You can donate to Patriotic Hearts our 501c3 non-profit HERE. 
Share us on