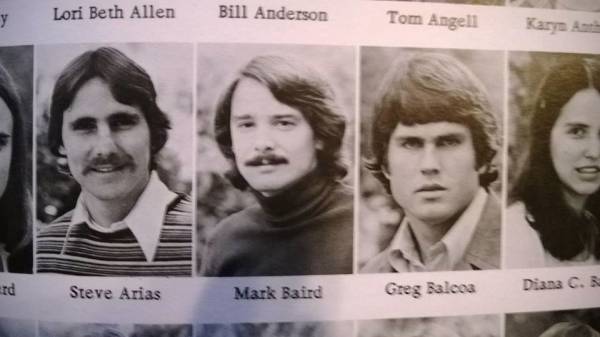 The picture attached to this post is me at Westmont College in the 70's. I was an idealistic youth who was zealous about making my life count. I am still trying 45 years later. I've spent decades teaching in inner-city schools, preaching to the poor, counseling addicts, employing US veterans, coaching kids, and trying to be a good husband, father, son and citizen. — I was never as good as I dreamed of being, doing any of those. But by grace, I have been able to be of considerable importance to many of thousands of US military and veterans. I find fulfillment in honoring them. 
Patriotic Hearts & HirePatriots.com
Patriotic Hearts is a highly honored 501c3 non-profit. Its programs have been helping the US military, veterans and the citizens of America for more than a decade. Its popular US veteran employment program is HirePatriots.com.
Hire Patriots is an organization founded by Mark and Tori Baird to find jobs for veterans. Their untiring efforts have resulted in assisting thousands of US military, veterans and their families live healthier, happier and more productive lives.
Their success has resulted in awards from Congress, Pres. Geo. W. Bush, Pres. Obama, and a feature story in People Magazine entitled "America's Heroes Among Us". Their initial resolve to find one veteran a job has grown into finding many thousands of jobs for US veterans.
HirePatriots began as a response to a Marine who returned from Iraq in November, 2004 to discover his wife and two small children living without utilities, due to his wife being laid off while he was deployed. He knocked on our founders' door and asked: "Sir, Ma'am, I need to earn some money right away to get the electric and gas turned on in my home for my family. Do you have any work that I can do for you right now around your home or yard?"
That Marine's urgent need inspired a website and job board called
HireMarines.com. It was a simple, free, one day job board that residents in San Diego used to hire local Marines, corpsmen and sailors. It was a sensation and received several prestigious awards for the benefit it brought to San Diego's US veterans, as well as to its communities and economy. It received the "Visionary Award" for 'creating economic stimulus' from San Diego's businesses; and, the "Extra Mile Award" from the Chamber of Commerce. That job board has grown to become HirePatriots.com. It serves every branch of the US military and all US veterans and their families across America.
Our U.S. military, particularly the lower and midrange enlisted and their families, often endure extreme financial stress, coupled with multiple, lengthy deployments and the rigors of military life. And our transitioning veterans often take years before catching up with their civilian peers and securing sustainable employment. This lengthy financial stress takes its toll. Too often it means that a veteran also loses his family as a part of his or her sacrifice to our country. Too many lose hope and commit suicide.
In response to this burgeoning crisis, Patriotic Hearts has developed multiple and unique programs that are vital to our modern day military and veterans' needs. — In recognition of the importance of Patriotic Hearts' programs President Bush presented them with his "Congressional Medal of Merit." And President Obama awarded us the "Presidents National Leadership Medal. – Visit PatrioticHearts.org and get a chapter started in your community.
America has many patriots of a myriad of types. Mark and Tori rejoice in the fulfillment they have received by giving up their possessions, status and comfort to this patriotic and honorable cause: Helping and honoring the citizens who have made the greatest sacrifice: US military, US veteran, and their families. — Join us!
In His service,
Mark Baird
Author: An American Crisis: Veterans' Unemployment
Author: The Patriotic Business Plan: Strategies for Sensational Success
Share us on