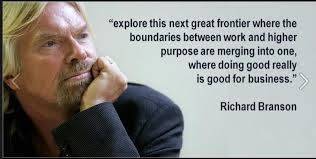 'Cause Marketing' is the key to success for 21st century businesses. In a world in which nearly the entire population is 'connected,' 'followed,' 'friended,' 'linked,' and 'liked' it is critically important for competitive businesses to also from such relationships with their community and with their customers and potential clients. I am not speaking about simply being on various social networks. I am talking about implementing a social strategy that includes your employees and patrons of your products or services.
Before the social networks and even more so today companies found that by associating themselves with a higher cause and purpose than their own commodity they tremendously increased their bottom lines. We see this today with sponsors of such popular causes as cancer awareness, children diseases and veterans.
Employee attraction and retention is dramatically increased, saving companies many thousands of dollars each year. Patronage and purchases also greatly increase when the public sees a business as more than just a profit generating machine. By caring about and associating their brand as a sponsor of charitable efforts that the majority of us care deeply about, people's affection, loyalty and support translates to those companies that care about the same things. It creates a human connection with consumers that transcends all other methods. In business speak: It makes companies a lot more money!
Patriotic Hearts is a decade old non-profit that is among the 'cream of the crop' among US charities. It has won awards from two US Presidents and Congress. It has been featured in People Magazine. Major News networks have interviewed them multiple times. They have one of the most popular web destinations in America: HirePatriots.com. Their programs help tens of thousands of US veterans, citizens, school children, senior citizens and businesses every year across our country.
The founders of Patriotic Hearts and HirePatriots have written a book to show companies how to build their brand and increase their profits by aligning themselves with their charitable efforts and activities. The book is The Patriotic Business Plan: Strategies for Sensational Success.
Contact Patriotic Hearts today and get started with a proven and powerful method for helping others and thereby helping yourself.
Mark Baird
CEO@hirepatriots.com
760-730-3734
People Magazine's "Heroes Among Us" 
From President Bush: The Congressional Medal of Merit
From President Obama: President's Volunteer Service Medal
From San Diego: The Visionary Award for Creating Economic Development
From the Chamber of Commerce: The Extra Mile Award
From ABC TV: The Leadership Award
From U.S. Veterans & Families: Liberty
From Jesus Christ: Love, Joy & Life
Author: An American Crisis: Veterans' Unemployment
Author: The Patriotic Business Plan: Strategies for Sensational Success
Share us on