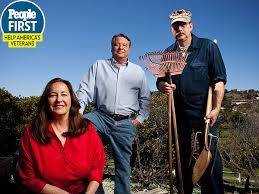 HirePatriots.com is the most important website in America for US veterans.  My constant mission and effort is to write as many blogs as it takes until you and everyone else understands the absolute truth of this statement.  It is critically important to all Americans that I succeed. HirePatriots must become the job board that our citizens use now and for generations.
The benefits of its One Day job board helps veterans and their families in a multitude of ways. It also stimulates the economy and helps businesses to stay in business and keeps employees employed. HirePatriots received San Diego's Visionary Award for doing exactly that. When 75,000 US Marines and over 100,000 sailors were provided a way to work for local civilians when they were off duty so much of this money was poured into the San Diego economy that HirePatriots became the number 1 News story of the year!
There are many important programs for US veterans. There are their transitional preparedness classes, job training, educational benefits, and a host of services that support veterans, like job search sites, mentoring, resume writing, etc. And then there are many programs for the entrepreneurial minded. HirePatriots One Day jobs provide a foundation that supports all of these efforts. It enables veterans to support themselves as they look for work or go to school or start a business.
Of course, caring for our wounded warriors is of utmost priority. But HirePatriots helps these men and women too. One Day jobs are often the first jobs that they will take before moving on to full time employment. The psychological benefit of providing them the means to build their confidence and to earn money by helping local residents is tremendous!
The rigors and stress of military service creates a much higher divorce rate among them than civilians. Besides sacrificing years of their lives and often much more, too many must also endure divorce and broken families.  This is especially true among the lower enlisted ranks, our beloved 'grunts.' We know that financial struggles are the number one reason for marriages ending. Removing that stressor from their lives will prevent a myriad of bad endings and worse. All it takes is a HirePatriots.com One Day job board.
No matter how well we prepare our troops for transitioning back into civilian life. No matter how many incentives our government gives businesses to hire veterans. And even with the outstanding effort of our US companies that hire them, there will never be enough jobs available for them all. American veterans in the hundreds of thousands and maybe millions will still be left unemployed.
Something critically important is missing from our efforts to solve veteran unemployment. That missing part of the puzzle is civilians posting One Day Jobs when they need help with chores around their homes and yards. HirePatriots.com!
Read our article in People Magazine for an example of how HirePatriots.com has helped a Navy veteran and his family for several years as they have struggled: http://www.hirepatriots.com/people-first-initiative-2013
Watch an NBC News feature about how HirePatriots helps disabled veterans: http://www.hirepatriots.com/people-first-initiative-2013
Watch this ABC News segment about how HirePatriots helps local citizens: http://www.youtube.com/watch?v=fYRFR0bm3lI
Mark Baird
Share us on