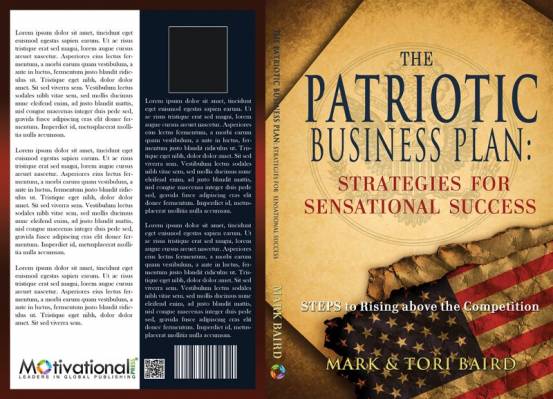 The Patriotic Business Plan
Strategies for Sensational Success / How to Leap Over Your Competition
Preface
Thank you for reading this book. If you are a business owner or a person seeking to start one, a CEO, an HR executive, in charge of Marketing; or if you are responsible for a business' website, SEO and social networking, the information in this book will be stimulating.
If you are a leader of a community service club, a school teacher, pastor or a patriot looking for something meaningful and fulfilling to do, this book is also for you. If you have been looking to be a part of a significant effort involving others in your area then you'll thoroughly enjoy what's inside. If you are a US veteran business owner who has longed to do something meaningful for your brothers and sister in arms then this book will inspire you.
Companies need to recruit well qualified personnel. Some companies may need marketing and branding, as well as a major increase in the numbers of visitors to their corporate website. Other businesses may need a program to inspire their employees with a rewarding community project. This book will meet all of those needs and provide a competitive advantage over your industry rivals.
This method is not a concept. It is a reality. Our strategy has been used by businesses for almost a decade, and won numerous awards and accolades. It incorporates traditional, as well as 21st Century techniques and technology. The Patriotic Business Plan is the most comprehensive plan available for modern businesses that want to leap over their competitors and to take the lead.
HirePatriots has taken the most popular form of marketing and recruiting into new heights. Cause Marketing has been around for a while. I remember it starting with Famous Amos cookies. He was a nobody with a brand that was going nowhere. When he decided to integrate his cookies with a popular cause, he became a somebody that is known everywhere. His business exploded worldwide.
A simplified definition of Cause Marketing is: A marketing and branding strategy that supports a popular cause in order to increase recruiting, sales, profits, as well as customer and employee loyalty. Consumers spent an additional 2 billion dollars last year as a result of companies' cause marketing efforts.  It is projected that this spending will increase by 25% in 2014.
HirePatriots has developed a business strategy that recruits, markets and brands. HirePatriots also strengthens the efforts of Human Resources to increase employee retention. We also provide a community project that creates free media for your company on national and local TV, radio and press. This is normally beyond the budget capabilities of many businesses. But HirePatriots has created an out-of-the-box, turnkey approach that will fit any business and have incredible results.
* This book is being published by Motivational Press. It will be published soon. The purpose of this book is to teach companies a new way of marketing, recruiting and branding themselves in the 21st Century. The strategy is centered around doing good for others, particularly for our US veterans. 
Mark Baird
Share us on