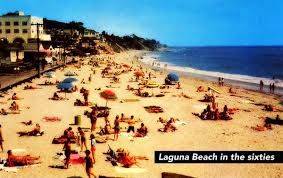 Geesh! It has been 50 years since 1963. It does not seem that long ago. Surfing was the new, huge craze. Surf music and commercial surfboards were in their infancy, so were skate boards. Most of us made our own. All of my friends were shaping and glassing. I took bullfighting posters and wrapped my foam before putting on layers of fiberglass. It was beautiful! If you were a boy in Laguna and did not surf then you probably had no friends.
There were no surf laws yet, so we could surf anywhere, even Main Beach, which occasionally had some good lefts and rights back then. But the best beach was Sleepy Hallow. This was before a huge hotel destroyed it. Sleepy Hallow was a gently sloping cliff covered with grass and Eucalyptus trees. And it had a great left breaking wave, perfect for Goofy-footers like me.
Maybe it is still this way, but each beach had its own group of Laguna kids. We would all begin showing up everyday at sunrise, and we did not leave until after sunset. I got so tanned that my skin was actually black on my back.   An AM radio was always on and played the hit parade of popular songs. And besides surfing we played "Holes," a game of removing 1-3 holes from 20 punched into the sand with a finger, until the loser was left with just one. And we made handball courts in the sand and used a tennis ball. And of course there was volleyball and skim boarding. We spent an average of 15 hours a day at the beach.
But my favorite thing to do was to flirt with all of the tourist girls that visited with their families or church group during the summer. I was entirely girl crazy. And from Bird Rock to Mountain road, I always had a half-dozen new girlfriends every week. Then when they had to leave we would write letters back and forth for awhile. There was no texting or email.  And so I still have letters written from girls 50 years ago to re-read when melancholy strikes me sometimes.
There was an old man, Bruce Hopping, who would walk the beaches everyday and talk to kids along the way. He was in his 50's then and was rich enough not to work. He founded an athletic organization called Kalos Kathagos, a swimming group that encouraged kids to have both a strong mind and a strong body. Bruce was our Socrates. He challenged us with thought provoking questions. And he made medals for us if we could swim from Sleepy Hallow to Bird Rock and back ( a little over one mile). If we did it once we received a bronze, if we did it twice without stopping, we received silver, and if we could do it three times without stopping, we got a gold medal. – Those are probably very valuable now. The medals were as large as the ones given at the Olympics.
The Boardwalk was a lot different then too, and much better in my opinion.  It had hamburger stands, a bar, art galleries, a pie shop, the Boys & Girls club, old beach homes and surf rentals. The man who ran the rentals was "George." He was probably in his 60's. His shop was just a closet rented from a food stand directly across from where the movie theater is now. In the morning some of us would help him open up. As a reward, we could use his hard rubber mini-rafts to surf with. I never got good at this, but many kids could ride waves with those rafts as well as with a surfboard. It amazed the tourists and got every one of them to rent a raft from George.
And there is one more personality that I recall, "Mister Hendricks."  He would come and sit on the Boardwalk in the cool afternoons. He always wore a coat and tie. He was very proper. He always brought coins and if we could answer a question, we would get different denominations, depending on how hard the question was. Remember, a cheese burger back then cost 35 cents, so by answering a couple of questions I could buy a meal.
It is men like Bruce and Mister Hendricks that inspire me still today. My dream is to retire in Laguna and do what they did: Be an inspiration and friend to Laguna's youth. Maybe someday an old man like I am will recall his days way back in 2013 and write about me.
Share us on