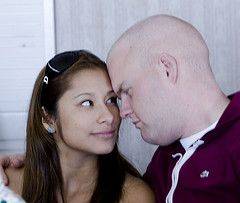 HirePatriots has received a $5000 donation from an anonymous, Christian couple to host another Military Marriage Retreat. It will occur either on the first or second weekend of November, 2011. It will be held in North San Diego, Ca.
A Time to Romantically Reconnect
HirePatriots' marriage retreats for our US military and recent veterans are a grassroots, community effort. And that is one reason why our retreats work for the troops. –They know that this is a volunteer effort of caring citizens that have pulled together to make their retreat possible.
We keep our retreats small and intimate. (It works better.) So we invite 14 couples and then we have 4-6 volunteers that help counsel, encourage and serve. (18 – 20 people in all.)
Ideally, if we can find companies to become sponsors and limit our costs, we can stretch this retreat into more retreats.
Hotel:
Of course, this is the big one. It needs to be very nice and romantic. It needs to have suites vs. rooms. It should have a view and a heated pool. And it needs a comfortable room in which to meet, or a large suite's livingroom (that's the best).
Tori and I are terrible negotiators. So we need someone who can get the best price for us. (I think we have this covered this time.)
Photographer(s):
We sometimes get a photographer to volunteer. In particular, we need them on Sunday. This is when we rent a flowered arbor and a pretty wedding cake. — We take a picture of each couple beneath the bower cutting the wedding cake after they repeat their marriage vows.
We also ask our volunteers to focus on two or three couples and to take candid pictures of them, (secretly), during the retreat. Then we paste these around the picture of them cutting the cake.
Memorial Frames:
One of the most important things we do is time consuming; but, extremely effective: We make pictorial memorials of their retreat experience and put the pictures in individual picture frames for each couple. (On the back are the names and contacts for our counselors. — Whenever they are in conflict or hurting, they take their frame off the wall and call a counselor.)
Breakfast:
We need breakfast on Saturday and Sunday mornings. — Cooking facilities will be available at the hotel we choose. (Usually we have two suites reserved for our volunteers, and these have kitchens.) — I know that some community clubs do this, like the Rotary or Lions Club, etc. — But we will take any sincere offer to assist us. It can be a club, church, business, or just a collection of patriotic residents.
Restaurants:
We need volunteers to contact nice restaurants nearby our retreat to provide lunch and dinner on Saturday.
Grocery Store:
We need snacks and buffet of deli selections for Friday night and Sunday afternoon.
Gift Baskets:
We like to have a nice, little basket of romantic knick-knacks and gifts in their rooms to greet them when they arrive.
Learning Materials:
We use a tremendous video series for our retreats that has proven to be very effective and fun for our couples. It is called "Love & Respect." — We want to provide the workbooks for this series. They are $11.00 each.
Sponsorships:
We always try to use the initial donation for our retreats to bring in more donations. That is the way we were able to take a grant from the SD Supervisors for a retreat a few years ago and turn it into 6 retreats.– Of course businesses want to benefit from helping us. And what we offer in return is amazing and well worth any donation.
In addition to putting their banner on our website, we also create a permanent blog about their business and their support. We put this on our homepage and send it to all of the major social networks. We also keyword it so that it will appear when people search for their product or service on the Internet.
And if they want their banner to continue on our site, we just ask for $125 a month. (A $275 monthly discount.) Our site ranks in the top 10% of all global and US websites.
They can even get their own customized HirePatriots website, blog and job board, in addition to the above, if they make an additional donation to our non-profit's veteran employment program.
PS. One of the special things we would like to add this year is to rent a dinner boat in the harbor and take the couples for a romantic cruise (weather permitting).
PPS. Here is a link to pictures and info about our previous retreats: http://bit.ly/cjRHpc
Mark & Tori Baird
CEO HirePatriots.com &
Patriotic Hearts 501 c3 non-profit
760-730-3734
Past Chairmen: CA Economic Council
Past Secretaries: United Veteran Council
From President Bush: The Congressional Medal of Merit
From President Obama: President's Call to Service Medal
From San Diego: The Visionary Award for Creating Economic Development
From the Chamber of Commerce: The Extra Mile Award
From ABC TV: The Leadership Award
From U.S. Veterans & Families: Liberty
From Jesus Christ: Purpose & Eternal Life
Share us on