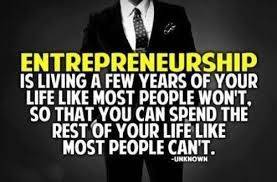 Entrepreneurism is the backbone of America and a distinctive way of life. Our economy and free enterprise is the best seed bed for starting businesses in the world!
One of the principal efforts of HirePatriots is helping veterans become successful, new business owners, or to be more prosperous in the one they already have. Towards this end, we create and promote opportunities that we believe are realistic and legitimate. We particularly seek low cost start-up businesses that have great growth potential.
US veteran entrepreneurs are amazing! One of every ten US businesses are veteran owned. Courageous, innovative, smart people with these traits are drawn to military service. And the training and experience they receive in our armed services develops these talents even more.
I have been a small business owner for 40 years. I have created multiple businesses for veterans and helped hundreds of businesses in a variety of ways. For current business owners I have written a new book, The Patriotic Business Plan. I use this to mentor them in utilizing the 'purpose driven' business plan I created to make HirePatriots a sensation.  This strategy has won major awards and been featured in People Magazine, FOX Business News, NBC Nightly News and is frequently on local and national TV, radio and press.
One of the businesses that I have created for veterans looking to start one is "US Military Maintenance." The start-up costs for this lucrative business is only about $2000. I started California Commercial Maintenance in my 20's for just $500. In not too long, I had accounts up and down the 800 mile stretch of California. I sold the business before I was 30, got a condo in Laguna Beach and surfed every day. Today, I show veterans how to do what I did. It is easy to do. And the sky is the limit.
Another business opportunity we have is called Veterans Green Projects. It has multiple ways for veterans to start their own business in this growth industry or to work for one. This business is the brain-child of Mike Malott, a former US Marine. I wholeheartedly endorse Veterans Green Projects as a great option for veterans looking to be their own boss. We have many other options too.
If you are a US veteran looking for work, to start a new business or to strengthen the one you give me a call and let's talk. HirePatriots is at your service.
Mark Baird
CEO: HirePatriots.com
760-730-3734
Share us on