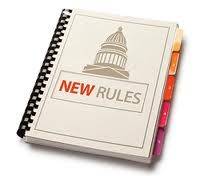 New benchmarks have gone into effect for companies contracting with the Federal Government. Under the new regulation, contractors are now required to set annual benchmarks and measure their progress in hiring and recruiting disabled veterans and other vets protected by law.
There are no set penalties for companies that do not comply. But the government will require that companies that receive contracts show good faith and a sincere effort to implement programs and hiring initiatives for US veterans. Patricia Shiu, director of the department's Office of Federal Contract Compliance Programs, said in an email. "Failure to achieve a goal is not a violation. Failure to try is."
Government investigators will look for proof that companies are trying to meet the benchmark through meaningful outreach, recruitment and other means. Although not explicitly stated, the implication is that companies which cannot provide proof of supporting and hiring US veterans will not be considered for future contracts.
The purpose of this new rule is to accelerate the number of US veterans being hired.
The rule applies to contractors and subcontractors with at least $50,000 in contracts and 50 or more employees. This new rule took effect on March 24, 2014
HirePatriots.com provides a means for businesses to comply fully with this new requirement. This is the strategy that we implement to prove your compliance and to meet your quota of US veterans hired:
1) We will build you a HirePatriots Recruiting Platform: See example: SC&RA — This site              provides an Internet presence that showcases your association with our US veteran                  charity that President G.W. Bush and President Obama have endorsed and awarded.
2)    We will write and publish blog posts about your company and employment opportunities. We will post them on HirePatriots.com and on your own HirePatriots recruiting platform. These posts will be sent to the major social networks and search engines. It will also be sent as a press release to hundreds of media outlets across America, and published in the Military Press.
3)    Post your jobs on HirePatriots.com's Careers job board. That will result in your jobs being posted on other websites aligned with HirePatriots. We will also search our resume database for veterans with the qualifications you seek.
4)    We will contact T.A.P. (Transitional Assistance Program) officers, as well as military job fairs on bases across America and disseminate your open positions.
5)    We will interview a representative from your company on Friends of Veterans radio. And mention your opportunities in our own blog posts and media engagements.
6)    We will solicit the assistance of our personal network of veterans, patriots, recruiters, job sites, government and military connections to fill your positions too.
Here is another way: Our Veterans Green Projects will collect your electronic waste for free and then give you a certificate of donation from our veteran non-profit. Your waste will allow us to hire US veterans to pick up, recycle and dispose of it. See more HERE.
Mark Baird
760-730-3734
Share us on