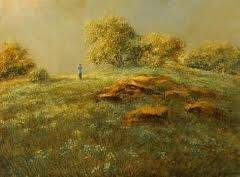 I know that this letter is very personal.  But I also know that almost all of us hold resentments against our parents. We harbor hurt feelings and anger. I would have told you that I "hated" my father for most of my youth. That was a terrible thing to do. So I share this as an old man talking to his dying father, so that maybe some of you will avoid carrying and causing useless pain. — Jesus says " Come unto me all of you who are weary and heavy laden, and I will give you rest."
Dear Dad,
I love you just because you are my dad. And I forgive all of your failings because I too have fathered three, and I know how being the perfect father we want to be is unattainable. — Just as in Jesus' parable when the men were about to stone a woman caught in adultery, "Let him who is without sin cast the first stone."
Too, just as the bible often says, "the sins of the father will be visited upon the third and fourth generation." The defects in your character I have been unable to escape too. — But I have sought with all my might to be a better husband and a father.  And I have been. And my sons are better than I.  — Let's hope that our lineage will always be better than we are.
I also admire and respect you. There are qualities within your character that I have also sought to possess.
You are a fantastic, amazing, beautiful extraordinary artist and painter! You were loved and admired all across the world. And there were aspects of our family lifestyle and activities based around your art that have had profound and positive effects on me and my children. I have a B.A. in Art History, Amy does too. And both Saxon and Sammy have natural artistic talent and appreciation. Getting that job at Challis Galleries and setting up art shows for some of the best artists in the world was a fabulous experience and education. And meeting and getting to know your friends in the art world throughout your life: Eccentric, creative, hip, cool, intelligent, smart, amazing people! Then your booth at the original and only Art Festival in Laguna Beach in the early 60's.  I got to wander around the grounds and got to educate myself on art. I learned what was good, why, and what was bad. My life has been greatly enriched. — Thank you!
You are a very hard worker! You once kicked me in the butt on Louise street when I was 4 yrs. old and digging weeds. I got kicked, you explained, because I was only using one hand when I had two. I actually appreciated that lesson. Then I watched you practice that in your own business efforts. You always gave it everything you had, no matter the work at hand. Even when you became a janitor you were respected as the very best. You inspired me. That is why at 5'3″ and 89 lbs. I was able to run faster than anyone else in Laguna. And now, just like you, I also work ceaselessly at my passion: Being a writer/advocate/pastor. (These are the talents God gave me.) And like you, I have also received major accolades and national attention. Plus, my website is visited by 63 countries every month. And it ranks in the top .o4% of all websites in the world. And I have a best selling book. And I have been a guest on FOX National Business News with Neil Cavuto, on NBC Nightly News with Brian Williams, and on every major News station in the country. I am somewhat famous. — Pretty good for a high school drop-out! — But I could not have accomplished any of it without following the same path that you tread ahead of me through your example of focused, dedicated hard work and true pride in your efforts. — Thank you.
 You tried your best. You taught me how to play catch. You came to all of my baseball games. You took me to baseball games. You took me to the Los Angeles Track competition between the USA and Russia every year. You watched some of my cross country meets. You joined me in some of my diving lessons. You taught me how to bodysurf, in your old fashion way.  I always had fun being with my dad at these times.– But you broke my heart when you came to the Laguna Invitational when I was running in the Final of the 1320, and you left before my race! I won against 43 other high schools represented. I got the medal and blue ribbon. But when I looked up, you where not there. It was one of the best competitive achievements of my entire life! — But in Life we all let people down, and we get let down too. So it is long ago water under the bridge. —   Thank you for trying to be a good dad!
Eventhough you have never been able to find a solid faith for yourself, you dropped me off every Sunday at the 1st Baptist Church on Broadway in Santa Ana; and, it was there, in the basement's Kindergarten school that I had a profound and lasting encounter with Jesus Christ. — Thank you!!!
I am sorry that you struggle with so much physical pain now, and still have the continued struggle against the demons that always haunted you. I have prayed for you almost everyday of my life. And I always will.
As I will someday, you are about to pass away. We will never have the relationship I always hoped for and desired.  But when your day comes, I do not want you to think that I do not love you, admire you, appreciate you, honor you. You are my dad. Thanks for everything!
Your son,
Mark
Share us on