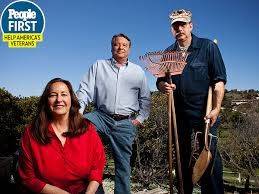 People Magazine selected HirePatriots as their US Veteran Hiring Initiative and wrote a several page feature about us. It tells the story of one of the thousands of veterans we have helped. This is a poignant story about Greg Erlandson that elevates your respect for our hard working military members and also gives you a detailed insight to how HirePatriots helps them. This is the story of a Navy Petty Officer and his family's struggles after he retired from military service.
Here is a side story not included in this article. On a combat mission with a special forces team, Greg was in the gunners seat near the open door of a helicopter when one of the engines exploded and threw him out of the door and 1000 feet down into the sea below. He survived with a broken back and severe head trauma. There were no other survivors.
Greg is a soft spoken man who seems to know how to repair any kind of equipment large or small, complex or simple. We have been helping Greg and his family for several years as they sought sustainable employment and financial stability. They have gone through every stage, from sleeping in a tent, to an RV, to an apartment, to a car and then into a house. In the midst of this their oldest son became afflicted with cancer. It has been a difficult road for this Navy veteran and his family. Read about their heartbreak and hope HERE.
Mark Baird
Share us on