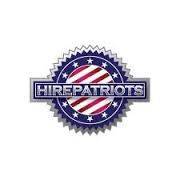 HirePatriots' Careers Job Board:
HirePatriots' full employment job board is world-wide. Its purpose is to connect companies seeking to hire US veterans with qualified former US military personnel. We do all that we can with all of our resources, connections, members, networks and volunteers to help businesses hire the right US veteran for the right job.
Companies can choose to highlight their jobs with several options. And if they post lots of jobs, there are packages of postings to purchase that offer savings, even an unlimited job posting selection. The unlimited job posters also get a permanent page about their company and job opportunities on HirePatriots.com. That page will be sent to search engines and social networks and appear on our national homepage. – Good deal!
Some companies post on only the big boards: Monster, SimplyHired, and LinkedIn etc. But the number of jobs that are posted on those sites often buries your open position like a needle in a giant haystack. People complain that a premium price to post on these sites gets few results.
HirePatriots.com is a "niche" site. We have two kinds of visitors: Companies that want to hire US veterans, and US veterans seeking employment. We go to great lengths to promote your company and its positions. We do the same work as a staffing agency or head hunter does but more. We are motivated by the joy found in getting veterans connected with the right company.
Here is an example of how we helped a global telecommunications company and HirePatriots member leap over their competitors. They contacted us and asked us to help them get in contact with veterans who wanted to be 'linemen.'  They had full time and part time jobs available, and a lot of contract work that would last for a period of time. This company used their HirePatriots.com website to advertise their veteran recruiting program and to post blogs about their open positions. That was enough. Their success in hiring qualified US veterans soared! They sent an email to tell us they were hiring several dozen veterans a month. The last count they gave us stated that they had hired over 375 US veterans directly through the HirePatriots.com website. They saved lots of time and many thousands of dollars.
Share us on