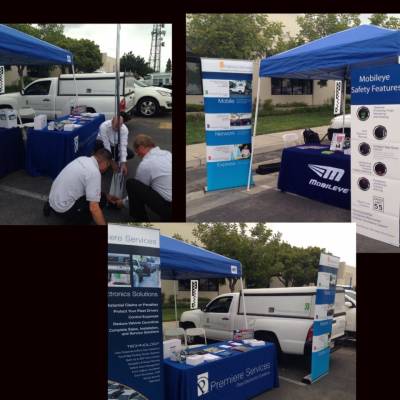 Premiere Services is pleased to announce we have recently expanded our solutions for our clients with the launch of Fleet Mobile Solutions by Premiere Services.  Fleet Mobile can assist mitigate liabilities, protect drivers, control expenses and be compliant with regulatory requirements.
For a company with fleet safety and cost management needs, Premiere Services' Fleet Management takes a consultative approach with clients, leveraging decades of mobile electronics installation experience, to find the optimal products to meet custom objectives.  Additionally, through our Flex Tech program, the industry's only national installation resource comprised of military veterans and certified specialty technicians, fleets can be modified and retrofit during non-working hours; keeping key assets moving and saving money.
Our Fleet Mobile Solutions is an extension of Premiere's 23 years of experience in the vehicle electronics insurance replacement sector.  We provide a personalized solution that is based on each fleet's needs and specific requirements. We have a national network of 3,500+ MECP–certified technicians; many of whom are mobile and can be deployed to location specific installations as required.
For additional safety solutions information, please contact Steve Witt at (800) 479-9945 or email to switt@premiereservices.com.  We would like to set up a brief introductory call with your key stakeholder in fleet management.  If you would be so kind to provide a contact, we will follow up with them and see if there are any needs we can fulfill.
Share us on