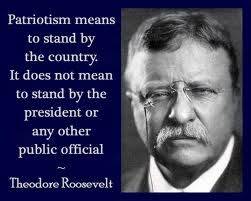 It is our most critical responsibility to promote an undying affection for America and the unprecedented principles upon which we are founded to each new generation. And this inspiration must continue throughout the life of every US citizen. Patriotic Hearts is dedicated to that purpose.
Patriotism is "a love and devotion for one's country." It is the foundation of any enduring nation. It supercedes political, racial, religious and cultural differences.  And it must. Patriotism is an identity shared by every member of a society. — We are "Americans."
We are a unique nation because of our immense diversity of races, ethnicities, cultures, languages and freedoms.  But we are still unified around this one transcendent idea: "a government of the people, by the people and for the people." And millions of Americans have died in defense of this paramount principle.
Our US veterans who offer their bodies to protect us and our way of life are without a doubt the citizens that deserve our highest respect, honor and appreciation. Patriotic Hearts provides a comprehensive plan for honoring them and for keeping America's light of liberty lit perpetually in the hearts of our children and adults. Patriotic Hearts promotes patriotism by giving US citizens meaningful activities in which to participate: job boards for businesses and residents to hire local veterans and their spouses, military marriage retreats, welcome home parties, job fairs, personal and career counseling, resume writing and job placement. And we also look for spokespeople to spread the message of Patriotism on TV, radio and in the press.
Our mission is to create Patriotic Hearts chapters in every state and in hundreds of communities across America. We need your help. What are your talents, gifts, passion, skills and vocation? How can you assist this endeavor? We need you!
Patriotic Hearts has been going for 7 years. It is nationwide. It has won major awards and receives frequent media attention. But we need people just like you to bring it to your part of America.
Contact me at mark@hirepatriots.com/ 760-730-3734 if you can pitch in.
Mark Baird
People Magazine's Heroes Among Us
Past Chairman: CA Economic Council
Past Secretary: United Veteran Council
From President Bush: The Congressional Medal of Merit
From President Obama: President's Volunteer Service Medal
From San Diego: The Visionary Award for Creating Economic Development
From the Chamber of Commerce: The Extra Mile Award
From ABC TV: The Leadership Award
From U.S. Veterans & Families: Liberty
From Jesus Christ: Purpose & Eternal Life
Share us on