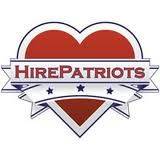 HirePatriots is a popular program of the 501c3 non-profit Patriotic Hearts.  It focuses on giving US veterans and their spouses one day, part-time and full-time jobs all across America. – Here are a few ways that we help veterans who experience combat trauma.
1) Our One Day jobs are posted by patriotic citizens. All of them honor and respect the veterans that they hire.  This is very important, especially for combat veterans who have lost friends, seen horrible things and possibly been wounded themselves.  They need to know that the rest of us honor those sacrifices too.
One of the effects of veterans' PTSD is a feeling of complete disconnection from civilian society. But knowing that there are others that respect what they went through goes a long ways in quenching those flames.
Here is a recent comment from a citizen that hires veterans for One Day jobs: I have used your Hire Patriots website many times and will continue to do so.  We have made some lasting friendships with some of the men and women who helped us move, landscape, and make general home repairs. — Janet Lackner
2) HirePatriots One Day jobs are taken by active duty E-1s to O-4s, and transitioned veterans from the employed, under-employed, and those who have not yet found employment. Some of these men and women take these jobs to keep busy and to avoid thinking about bad memories. Here is the story of 3 such US veterans: http://bit.ly/19PWtqd. Many take these jobs because of the therapeutic value of the work, as much as they do for the money.
3) Statistics have always shown that financial stress destroys marriages. And when that is added to all the other extraordinary stresses of veterans, it can be the breaking point that causes them to lose their wives and children. And this should not be. Of course, for a wounded warrior who is already suffering this is something that can only do further harm.
HirePatriots' One Day jobs provide a means for veterans and their spouses to earn the extra money they need. A Marine told me a few weeks ago that he had been taking One Day jobs for just 30 days and had already made several thousand dollars.
P.S. Our non-profit hosts 3 day, all expenses paid marriage retreats for US veterans. All of our attendees over the last 8 years are still together.
4) Veterans who have lost limbs or sight or hearing or that have TBI often feel that their lives are over and a specific kind of PTSD. Rebuilding their confidence is critical to their recovery. Military hospitals that care for these men support our One Day jobs program and encourage their patients to take jobs from it when they are ready.
I can only imagine what a veteran injured in this way feels like after taking a One Day job, being greeted by and working for supportive patriots, getting paid, and then stopping  by a store and buying flowers and toys for his kids that he/she earned that day by themselves.
5) The worst thing about PTSD are misconceptions and misunderstandings that are rampant among civilians and corporations.  HirePatriots creates many opportunities for residents and veterans that hire from our site to share their stories on our website and on TV, radio and in the Press. We are constantly advocating for US veterans and educating the public about their value.
When people get to meet these veterans by hiring them on HirePatriots, they find out how great these men and women are. They all have learned the military hard work ethic and courtesy. They can't help answering every request with "Yes, sir!" or "Yes, ma'am!"  Virtually everyone that hires veterans from our site falls in love with them.
Here are some important facts about US veteran PTSD. US veterans make up less than 5% of the US citizens that are diagnosed with PTSD. There are far more civilians who suffer from it.  And US veterans are trained for encountering very traumatic experiences. Hardly any civilians have this training. And US veterans have a huge support group of other veterans that understand exactly what they are experiencing. Again civilians do not. Plus veterans have V.A. programs and many non-profits to help them recover. – And so the unknowns of hiring a civilian are far more risky than hiring a veteran.
Post your One Day jobs here: http://www.hirepatriots.com/day-job-board
Post your part-time and full-time jobs here: http://www.hirepatriots.com/sjb/
If you do not have a HirePatriots chapter for your base or where you live, give us a call. If you can help out a bit, we can get a HirePatriots website and job board built for your area.
And check out our article in People Magazine: http://www.hirepatriots.com/images/PeopleFirst2013/HirePatriots-PeopleFirst-2013.pdf
Thank you,
Mark Baird
760-730-3734
Thank you!
Share us on