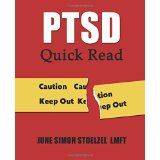 For over 30 years, I have treated clients with PTSD. I received an MA in Psychology. I also trained at U.C. Medical Center in San Francisco to become a Certified Sex Therapist. I have worked at hospitals, clinics, abused women centers, the welfare department, and inner-city boys clubs. These experiences gave me insight that there was not a "one size fits all" approach. The method I use is Cognitive Behavioral Theory. It enables the Therapist to facilitate coping skills that are appropriate for each client. Symptoms make sense once the underlying causes are identified and the negative emotions are brought into the realm of logic.
As a child, I was told that I thought "outside the box". My main interest was to be a detective and to uncover why people did things and acted in interesting ways. While working on a degree in Art and Science, my sculpture teacher placed a large block of wood at each student's workstation. He told us, "In this block of wood there is a magnificent piece of sculpture. Now, cut away everything else!"
I never found that magnificent piece of artwork; but, I never forgot, "Now cut away everything else." I designed these worksheets to make sense of symptoms and provide a structure for applying new coping skills. At last, this was the detective work that had always enticed me.
Click this link to preview my book: PTSD Quick Read: Understanding & Coping with Posttraumatic Stress Disorder
You can also view my YouTube video by clicking HERE.
Share us on