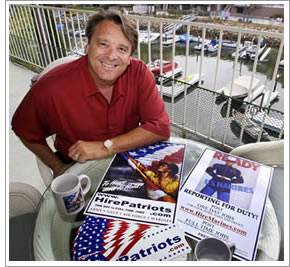 My wife and I are committed to ending US veteran unemployment. We have created a free job board for US residents to hire local US veterans or their spouses. When you need help with chores or repairs around your home or yard, post your job for free on HirePatriots.com. Just describe the job, how much you can pay and your phone number. Local veterans will give you a call. You choose who to hire and pay them directly.
Here is a link to comments from those who have used this program:  http://bit.ly/TY2YTN
We began this free job board in San Diego. It soon was receiving 10,000 visitors a week! And it received San Diego's number 1 business award for stimulating the local economy.
America has hundreds of thousands of recent US veterans who are out of work or who need to earn extra money to make ends meet.
We need a reliable RV with which my wife and I can crisscross the country and get this job board started in every state and near every active duty military base and armory.
We have 3 levels of donations and each one receives a gift. Click any choice below:
Share us on