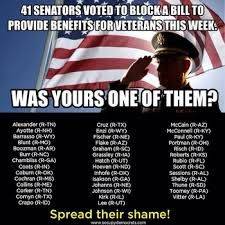 This is what I do not get: The Republican Party, that stands for Christian and Conservative ideals, the party that chose to send our young men and women off to fight In Iraq and Afghanistan, are continually cutting benefits to our US veterans.
We all are aware of how poorly the V.A. hospitals have been caring for our injured troops. A large cause of this is because we do not have enough V.A. Hospital staff to care for all of our injured troops. The V.A. needs $18B to meet its staffing requirements. The Congressional Republicans are insisting that they will only allot $10B. Not only will this mean continued staff shortages and poor health care for our US veterans, it will also mean very slow processing of claims. (By "slow" I mean 'years.')
The V.A. needs additional funds, apart from increasing its hospital staff. The V.A. needs additional claim processors too in order to greatly speed up the time it takes to file a claim and to see a doctor. The V.A. also needs to enter into the 21st Century by switching to computer processing, instead of filing by paper.
The Democratic Congress proposed a $44 billion fix for the V.A. The Republicans are insisting on only $10 billion. It will not be nearly enough.
The behavior of the Republican Party belies their Conservative ideology.  Even John McCain, a former P.O.W. in Vietnam is leading the charge to reduce benefits to our recent US veterans who fought a war longer than Vietnam veterans, like McCain.
Write your Republican Congressmen and Senators. Let them know that they have a moral responsibility to care for the men and women they sent into harm's way.
Mark Baird
Share us on