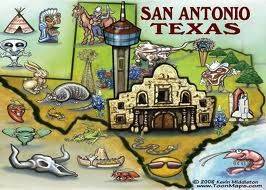 HirePatriots.com, a nationwide, one-day job listing website, will soon be available in San Antonio for veterans and their families.
Mark Baird, chairman of Patriotic Hearts, founded the www.HirePatriots website in 2005 with his wife, Tori. The pair said that www.HirePatriots.com is meant to fill in the income gaps many veterans face while transitioning to civilian life.
"Our overall mission is to help veterans and their families get back on their feet financially," Baird said. "The (job board) began when a U.S. Marine knocked on my door and needed to earn some extra income to support his family. Now we help tens of thousands of these veterans every year."
Cedrick Brown is a retired Navy medic and the head of the upcoming San Antonio branch of the organization.
"HirePatriots.com is a safety net, but it's not a handout. We're teaching vets to use that net to fish," Brown said. "The biggest tragedy, I believe, for our armed forces today, is that these guys, who lay their lives on the line, are trying to (exchange) their boots for corporate slacks, but can't get a job … can't get an interview, even.
"After we're handed our DD14 (certificate of release), everyone assumes that the government keeps taking care of us," added Brown. "That's not the case. We need the little jobs, the one-day or one-week jobs that can fill the gaps, get you $500 to $700 to pay the bills and put groceries in the house."
Brown, who's been married 18 years and spent two tours in Iraq, said he is a walking example what www.HirePatriots.com can do for those in need of work.
"When I came back to San Diego, I found a listing on HirePatriots.com and earned $100 moving rocks in a guy's back yard for a day," he said. "The stuff you find on there might not be in your career field, but it's a way to show people you can work hard."
Since HirePatriots.com is already active across the country, Brown — a Houston native — said a move into S.A. has been a long time coming.
Brown added that "22,000 people a month come to our website in San Diego alone. Here, we can double that number … we want to get a huge military city like San Antonio back on (our) grid."
With millions of veterans returning to find a stagnant job market, Brown said the website should help local veterans get back into the job market. "As far as we know, our website is the only one-day job posting site in the U.S., so this is one piece of the puzzle, addressing the practical needs of veterans making the transition to civilian life," Brown said. "But we're working to make this effort (with HirePatriots.com in S.A.) more than just job postings."
Brown also added that his organization is currently negotiating with local businesses to donate computers, smart phones and other avenues of internet access to veterans, and is aiming to have an office set up — perhaps near Joint Base San Antonio-Fort Sam Houston — to offer these additional opportunities by Sept. 11.
"We're asking all businesses, churches, community groups, schools and whoever else can help to step up and spread the word about hiring vets through this site," Brown said. "We can really make this a success if we can get multiple community factors on board."
Those looking to donate to San Antonio's branch of HirePatriots.com or contact Cedrick Brown to find or post job opportunities can do so through his representative page on www.hirepatriots.com.  
jgerlach@primetimenewspapers.com
Share us on