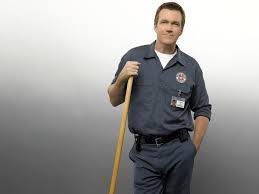 When I was in my twenties I tried to find my spot in the work world. I had several jobs: working in restaurants, digging ditches, delivering mail, sales… I just could not find anything that worked for me and that I could see myself doing for a few decades. I felt lost.
Then one day, when I was dropping my daughter off at pre-school, I heard the director complaining about their floor and how badly it needed to be refinished. I had worked as janitor for the school district and waxed and polished hundreds of floors. So I proposed to the director that I strip and reseal their floor. I asked for $500 and she accepted. After doing a great job that really impressed them, I asked if I could stay on and keep the floor in good condition and clean the rest of the pre-school too. That was my first janitorial account for what became California Commercial Maintenance. In a few years, I had business accounts up and down my state. I had banks, real estate, doctors, dentists, hair salons, restaurants and various sorts of office complexes.
I was enough money to not worry. I got a place on the beach and spent a lot of my time surfing, as my employees tended to the day to day. Then I sold off all of those accounts and went and got some new ones and started over again. I did this several times.
Now, as the founder of a nationwide veteran outreach, I am teaching others to do what I did. I provide everything needed, except the cash to get started. You can purchase all the equipment you need for $500. Then there is marketing, business license, insurance, printing, and advertising. But that does not cost much: Less than $1000 will be enough to get accounts and begin making money.
Before I expanded my business, I cleaned all of my accounts by myself. Once, I had 10 accounts a night that I serviced. It took me 6 hours. I started at 6pm and was home by midnight, sometimes sooner. I made $60,000 a year.
Anyone who is serious about being a success can do this. You do not even have to do the work yourself. You can train and hire someone else. There will be enough money to go around. Excellent work and customer service is all that you need.
The way I started really making money is when I offered to be a one stop maintenance company. In addition to janitorial, we did the exterior of the building, the parking lot, and the landscaping. Later, we sub-contracted mechanical maintenance, painting, and security.
If you want a mentor who has done it all to get you started and then to lead you along the way, give me a call.
Mark Baird
760-730-3734
Share us on