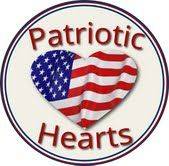 The mission of Patriotic Hearts is to create a nationwide, grass roots support system and employment safety net for our veterans all across America.
The entire crux of our Patriotic Business Plan is to get local residents to post chores and repairs on their local community HirePatriots job board and website that we give you. This will get a HirePatriots chapter started in your area. The best way to do this is to ask your friends, neighbors and fellow members of your church and clubs to post jobs for local US military, veterans and their spouses in your area on your HirePatriots.com one day job board.
Read some Comments from HirePatriots users HERE.
Once you have a dozen jobs posted, let your local US bases, veteran associations, and veteran non-profits know. Ask them to let job seeking veterans know to look for jobs helping local residents on your website.
After you get a few jobs taken, contact the veterans and the civilians who posted and worked those jobs. Get their testimony about the experience: how it helped them both. Send these testimonies to local TV and radio NEWS affiliates and local newspapers. Pick up the phone and call them or go to their office and speak to them. You will get a lot of free publicity. More and more jobs will get posted; and more and more veterans and businesses will come to your website. Your popularity will also create requests for you to speak at local meetings and clubs. You will have many volunteers to help you continue spreading the word. School children may even set up a table in front of popular stores and pass out fliers.
The positive effects on your business', organization's, church's, or school's public image will be tremendous! The amount of free publicity you receive will be huge. Having a great reputation for caring about US veterans and for helping them connect with local residents is worth more than gold.
Contact HirePatriots if you want to get a Chapter started in your area. To email click HERE.  Or give us a call at 760-730-3734.
My new book explains how to create a local chapter step-by-step: The Patriotic Business Plan: Strategies for Sensational Success.
Mark Baird
Share us on