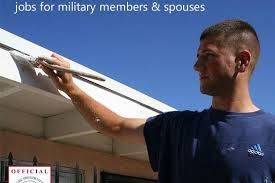 As you know, many members of our US military live near or below poverty. Military life is hard enough without that additional stress. And because of it the US military has a much higher divorce rate. This should not be.
A simple way to make a huge impact in your community and to help US veterans that has proven to be very successful here in San Diego is our One Day job board. Whenever residents, organizations, or businesses need an extra hand with chores or repairs for a day or two they can post for free on HirePatriots.com and hire a local US military, veteran or their spouse. Here are some of the comments we receive from veterans and those that hire them: 
http://www.hirepatriots.com/news-and-blogs/entry/what-people-say-about-hirepatriots-job-program
In San Diego, we get several thousand visitors a week. Tens of thousands of local veterans are helped every year.  Now, HirePatriots is offering communities, military branches, bases, organizations, clubs, schools, churches, businesses and patriots their own HirePatriots website, job boards and blog so that they can get this program going where they live. If we get enough people who will join this cause, we will create a nationwide jobs safety net for US veterans. We will put a very serious dent in their unemployment rate and financial woes.
Some veterans make as much as $5000 a month from taking these jobs and do this full time after leaving the military. Others just need to make a few extra hundred dollars a month.  Whichever way, it helps them while in the military, and when they get out and struggle to find sustainable full time employment.
I have built hundreds of these sites. And I have a major publisher, Motivational Press, who will be distributing my new book: 
The Patriotic Business Plan: Strategies for Sensational Success
. It gives readers everything they need to know about what my wife and I did to make this the number one website and News story in San Diego. (Imagine if a business in every community sponsored this site for their area. That business would become the most popular business in that region. But the book can apply to and help non-businesses get this program started too.) In the meantime, if you want to get this going where you live, Tori and I will work with you personally to do what we did.
If you care about the young men and women that volunteer to defend us, please help us to help them. They endure so much hardship while in the US military and so much difficulty when they re-join the civilian world. Contact us if you are truly sincere.
People Magazine's Heroes Among Us
Past Chairman: CA Economic Council
Past Secretary: United Veteran Council
From President Bush: The Congressional Medal of Merit
From President Obama: President's Volunteer Service Medal
From San Diego: The Visionary Award for Creating Economic Development
From the Chamber of Commerce: The Extra Mile Award
From ABC TV: The Leadership Award
From U.S. Veterans & Families: Liberty
Share us on