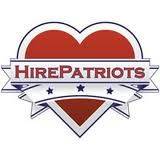 Because of the wonderful patriotic response all across America from citizens and businesses that want to create a HirePatriots chapter in their areas, I have created an overview that tells you how to do so step-by-step.  When you get started, we will help you accomplish these one at a time. Thank you.
The Seven Steps to Starting a HirePatriots Chapter
HirePatriots is one of a dozen programs of our 501c3 non-profit, Patriotic Hearts. It is our strongest program because it is entirely unique. HirePatriots.com is the only job board in America that offers US veterans One Day jobs.  These jobs are critical to our enlisted ranks, military spouses, and under-employed and unemployed veterans.
We began with HirePatriots after a US Marine knocked on our door and asked for work. Then we began holding jobs fairs for the military. Then we began hosting marriage retreats when we heard that the enlisted ranks were being decimated by divorce. Then we began hosting family picnics for returning regiments. And now we have a host of other services we provide.
But our focal point and main mission is to create a nationwide jobs safety net for US veterans and their spouses.  The safety net is comprised of local communities that adopt a HirePatriots website of their own in order to thank and support their local veterans. When we have these in every state and in many towns throughout each state then this "safety net" will be created.  Then every US veteran, when it is needed, will be able to find work each day to keep his head above water.  – They quite obviously have earned this assistance from us by offering their lives to defend ours. Many veterans have died and hundreds of thousands have been maimed and suffered loss by defending us. This is a great and simple way for us to thank them in a meaningful way.
Our method for creating this safety net has been to find businesses in each locale to sponsor a HirePatriots website for their area of the country. Over 100 businesses have participated. With their support we can get the rest done with local veterans and volunteers.
These steps are exactly what my wife and I did to make HirePatriots the most popular veteran program, number 1 News story, and recipient of the most prestigious business award in San Diego.  And we did this while running our own business. So we know that our plan works. We just need a few community residents and veterans to volunteer a few hours a week for a couple of months in order to recreate HirePatriots successfully in your neck of the woods.
1) The first thing to do is to get a local HirePatriots website. (This takes 48 hours.) One of the key attractions to using HirePatriots is that it is exclusive to a community. Regions need their own HirePatriots website to promote local volunteers, veterans, companies, school children, events and activities. And they need a local blog to promote patriotism, and service to community and country in their locations.
There are some costs incurred when we create a site and fliers and posters, train and work with volunteers and host patriotic events.  And so we try to find business sponsors to pay these costs for us. In return, we promote those businesses in multiple and effective ways.  We promote them on TV, radio and press. We put their banners in the top, right-hand corner of the homepage. We post blogs about them. And we save them money by recruiting new employees for them. They become one of the most popular businesses in their region.
2) Once a community has its own HirePatriots.com website, it is much easier to get the local media to pick up the story.  We contact your region's media outlets (TV, radio & press) and let them know that your company is bringing this program to your area. We ask them to let one of your representatives to be interviewed so that we can spread the word and get full time and one day jobs posted for the local veterans.  They always say "Yes."
3) These media interviews start a buzz and jobs begin getting posted. That is when we let the military bases and veteran organizations know about your local website and job board for them. And that is when the fun begins!
4) Many of the One Day job posters will be senior citizens. That makes sense because when people that age are physically unable to get some chores done without hurting themselves. Seniors also post jobs because it is affordable. Many are on a very limited budget. Some of these seniors are veterans or widows of veterans; but all of the people and companies that post jobs are patriotic.
When a veteran goes to your website looking for a One Day job, he will see where the job is located, a description of the job, the amount they will get paid and the contact info for the person who posted the job.  The veteran will call the job poster have a brief conversation and then arrange a time and day to get the job done. – Veterans show up on time, stand up straight, work hard and always answer with "Yes, Ma'am" or "Yes, Sir."
These jobs mean a great deal to veterans. But the impact you make upon their lives will be greater than just financial. Veterans spend years relating to just other military members in the service.  Being around patriotic citizens who treat them with respect and appreciation, and who employ them, means a tremendous amount to them. They may have seen buddies die or hurt badly. They have all sacrificed a lot personally to serve us. Meeting US citizens who honor their commitment to our country is the greatest reward you give by posting these jobs.
5) Getting a veteran full time, sustainable employment is our ultimate goal. Your career job openings will be featured on your HirePatriots homepage. You can make a big difference in the lives of your local veterans.
HirePatriots.com ranks in the top 1% of all global and US websites. It contains over 1000 pages. Our job board is one of the best in the world. Every new full-time job that is posted on our site is also simultaneously sent to Twitter, Facebook and LinkedIn. As well, it appears on the HirePatriots.com home page. And it is one of the most popular destinations on the Internet for job seeking US veterans.
6) Fundraising: The goal of HirePatriots is to become an essential part of American life and to endure for generations. Of course, there are ongoing expenses for this effort to succeed in your community and all across our country. And so we are always open to new ideas, grants, and other funding sources that our supporters can bring to the table.
7) Another thing we need to do for our veterans is to advocate and speak publically for them. We need to educate our fellow citizens about patriotism and respect for veterans. Without such citizens our country will perish. Seek out opportunities to share for a few minutes at a local chamber sundowner or community service club or church or write a letter to the editor.  Talk about the veterans you have met through HirePatriots and how it has enriched your life meeting them. Bring a veteran or military spouse to come and share too when you are speaking.
Involve your local schools.  Get the teachers involved. They are some of the most creative people in any community. Most students are now required to help a charity in order to graduate. Volunteering for HirePatriots is a great way for them to do so. They can always help out at events. But they can also set up a table in front of local grocery stores and pass out fliers, just like the Girl Scouts do with cookies. – Remember to record videos of these students helping out and post them on your website. Let them write blogs etc. And when you approach the media suggest bringing a student along to talk too. – Do this with all volunteers, regardless of age.
These are the seven steps to take to get a successful HirePatriots chapter started in your part of America. This is how my wife and I did it and you can too.
Mark Baird
760-730-3734
Share us on