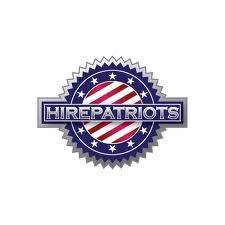 HirePatriots employs US veterans and their spouses as its "ambassadors." They help spread the word about HirePatriots and raise funds for us. They make calls to businesses by phone and talk to HR managers, CEOs and owners. They speak on TV, radio and to newspapers. They make speeches at events, clubs and organizations. They attend military jobs fairs. And they get more jobs posted for US veterans on HirePatriots.com.
Many US veterans do not want to leave their buddies behind when they leave the military. They need to continue participating in the welfare of those still serving. Taking civilian jobs that just gets the bills paid is sometimes not enough. They seek purpose, meaning and a continuing mission. By working with HirePatriots, veterans can earn a good living and be helping other US veterans everyday!
HirePatriots is a program of Patriotic Hearts, a 501c3 non-profit with a dozen other free programs for veterans and their families. The HirePatriots program is dedicated to providing sustainable employment for US veterans and their spouses. We provide two job boards, resumes, recruiting service for companies and an award winning cause marketing strategy. HirePatriots also helps veteran entrepreneurs to succeed.
HirePatriots also raises funds to host military marriage retreats, welcome home parties and job fairs. HirePatriots Ambassadors also raise funds so that we can build a US veteran retreat to help with a variety of issues that our military members and their families encounter. We assist all US veterans, past and present.
There are numerous products and services that HirePatriots offers to companies in return for a donation to our non-profit: job postings, resumes, banners, blogs, cause marketing memberships, public relations, recruiting, sponsorships, media, writing, speaking, coaching and  job fairs. We also hold fundraisers like golf tournaments, dinners, coffee sales and other creative alternatives. Veterans and their spouses, as well as their ardent supporters, can work at home and within their own community. All you need is a phone and computer to get started. We will provide all the training, coaching, support and materials that you need to make a good living and to earn enough to not worry.
You will work as an independent contractor. We pay well for accomplishments and success. We do not pay our ambassadors by the hour. If you can take direction and follow through, you are the candidate we are looking for. Your leaders will be other US veterans. We have a General, a Colonel and a 20 yr. Navy Corpsman and a Chaplain who are team leaders. They will help you every step of the way. And you can become a team leader too.
For more details about our opportunities and compensation, please contact me:
Mark Baird
CEO: HirePatriots.com
Chairman: Patriotic Hearts
People Magazine's Heroes Among Us
Past Chairman: CA Economic Council
Past Secretary: United Veteran Council
From President Bush: The Congressional Medal of Merit
From President Obama: President's Volunteer Service Medal
From San Diego: The Visionary Award for Creating Economic Development
From the Chamber of Commerce: The Extra Mile Award
From ABC TV: The Leadership Award
From U.S. Veterans & Families: Liberty
From Jesus Christ: Purpose & Eternal Life
Share us on