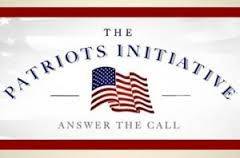 Patriotic Hearts, the 501c3 of which HirePatriots.com is a part, has been chosen to be among the select group of non-profit endeavors listed in the The Patriots Initiative Directory—a program of the Rancho Santa Fe Foundation.
The primary purpose of this post is to thank The Patriots Initiative for choosing us and for sending our information to its members. It is an honor to be selected by such a prestigious foundation.
In San Diego County our most exclusive neighborhood is Rancho Santa Fe. In the 2000 census it was declared the 'wealthiest community in the nation.' Rancho Santa Fe is one of the oldest communities in San Diego. It is beautifully situated with views of the ocean, lakes and hilltops across the county. It has been an exclusive community for America's greatest artists, architects, movie stars and entrepreneurs for decades.
Rancho Santa Fe is noted for its Spanish and Mediterranean architecture that creates unity between buildings and their surroundings in a simplistic blend of picturesque romantic charm.
Here is the essential information aboutThe Patriots Initiative—a program of the Rancho Santa Fe Foundation   http://thepatriotsinitiative.org/the-directory/patriots-initiative-directory/
Mission: To connect donors with regional and global needs through visionary community leadership, personalized service and effective grant making.
Vision: To be a comprehensive center for philanthropy that inspires the joy of purposeful giving.
Mark Baird
CEO: HirePatriots.com
Chairman: Patriotic Hearts
mark@hirepatriots.com
760-730-3734
People Magazine's Heroes Among Us
Past Chairman: CA Economic Council
Past Secretary: United Veteran Council
From President Bush: The Congressional Medal of Merit
From President Obama: President's Volunteer Service Medal
From San Diego: The Visionary Award for Creating Economic Development
From the Chamber of Commerce: The Extra Mile Award
From ABC TV: The Leadership Award
From U.S. Veterans & Families: Liberty
Check out our  segment on NBC Nightly News with Brian Williams:http://dailynightly.nbcnews.com/_news/2013/08/03/19836188-helping-veterans-find-work-off-the-battlefield?lite
And here is our feature in People Magazine: http://www.people.com/people/article/0,,20688680,00.html
Share us on