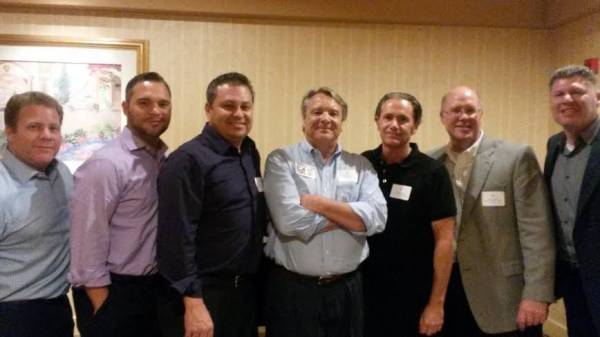 HirePatriots is the employment program for Patriotic Hearts, a 501c3 non-profit. Our effort to establish a nationwide jobs safety net for US veterans is being helped by The Technology Xchange. They are an all service electrical contractor based in Redondo Beach, CA. They provide consulting, product representation, design and engineering services to the electrical wholesale, contracting and construction industries. The Technology Xchange were the first clients for our Veterans Green Program. And they continue to lead more e-waste donations our way.
This is a picture of us at the recent The Building Industry Association of Southern California conference in Newport Beach, CA. Hundreds of construction related companies attended this event. And Tori and I were able to meet many of them. They were all excited about also supporting our e-waste initiative that employs US veterans. They also want to use HirePatriots.com as a resource to fill their hires.
At our table we also hosted Semetra,  a recognized leader in the design & implementation of high performance networking solutions, NAVCO, the largest privately-held electronic system integrator in North America, and UPSS, (Universal Protection Security Systems). They are also enthusiastic about helping our US veterans through HirePatriots' veteran hiring program and our Veterans Green Projects program.
In this photo from the BIAOC event were (left to right) Robert Gailing (TechX group), Anthony  Eisenman (NAVCO), Mondo Marshall (Semetra), Mark, Steve Borich (TechX), Jeff D'Errico and Ed Lawson (UPSS). (I am in the middle.)
 Not in this picture is Jeff Wetzel, the President of 
The Technology Xchange
.  He cares about US veterans and is helping our Veterans Green Projects become successful so that Patriotic Hearts and HirePatriots can assist more US veterans in a variety of ways. Thank you, Jeff. You are a true American patriot!
Mark Baird
Share us on