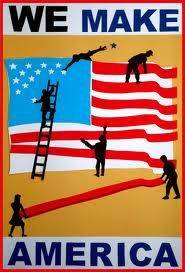 HirePatriots' goal is to develop relationships with businesses that help us both. We seek to work with our sponsors in an active way to achieve their goals in recruiting US veterans. And we promote your company to our job seekers, the residents that post one day jobs, and other businesses that fill their positions from HirePatriots.com.
HirePatriots goes far beyond only posting your jobs or just adding your banner to a web page. HirePatriots takes action. First we take your job postings and share them on Twitter, Facebook and LinkedIn. Then we create a permanent page about your company and the positions it offers on our website and send it out to the social networks and search engines. And we give your banner priority presence on our national site's homepage.
And here is where we take a giant leap. We also can create a mini-site for you on HirePatriots.com. It contains your banner, company information and links, as well as pictures, videos, and blog posts that you want added. This site has its own, independent web address so that you can send veterans directly to your own HirePatriots website. We also have banners fliers and posters for you to use on your site and at events and job fairs. Here is an example:http://www.hirepatriots.com/southern-california
HirePatriots is community service program that promotes patriotism and support of US veterans and their families. Our 501c3 non-profit is Patriotic Hearts. It provides a host of additional important services to our military members, past and present. HirePatriots is a volunteer project that involves students, senior citizens, residents, businesses, civic leaders and local TV, radio and print media. As a sponsor of our program, your company will also receive tremendous public relations benefits.
Because of our 501c3 status and great reputation on military bases, we also have multiple opportunities for companies to have a presence on US bases through the events and outreaches we host for them. And HirePatriots is often invited to have a presence at other events on bases sponsored by aligned veteran causes.  As a sponsor of HirePatriots we will gladly exhibit your information at these events.
HirePatriots is a one-of-a-kind military outreach. We provide a free "One Day" job board for US residents to use to hire their local military and veterans when they need an extra hand around their homes and yards. This simple program provides critical extra income for veterans; but, it also enriches the lives of the civilian patriots that hire them. (Read some comments here: http://bit.ly/TY2YTN) But it also stimulates local economies: HirePatriots received the "Visionary Award" for "creating economic development" in San Diego County.
Our uniqueness also opens doors on local News stations and newspapers. And we regularly receive national attention too. There are always opportunities for our business representatives to talk on our behalf in the media, at clubs and organizations and at patriotic and civic events.
Our non-profit is supported primarily by donations made by our business sponsors. If you would like to get started, please give me a call.
Here is a link to our recent feature in PEOPLE Magazine: http://bit.ly/ZNT731
At your service,
Mark Baird
CEO: HirePatriots.com
Chairman: Patriotic Hearts
mark@hirepatriots.com
760-730-3734
People Magazine's Heroes Among Us
Past Chairman: CA Economic Council
Past Secretary: United Veteran Council
From President Bush: The Congressional Medal of Merit
From President Obama: President's Volunteer Service Medal
From San Diego: The Visionary Award for Creating Economic Development
From the Chamber of Commerce: The Extra Mile Award
From ABC TV: The Leadership Award
From U.S. Veterans & Families: Liberty
From Jesus Christ: Purpose & Eternal Life
An American Crisis: Veterans' Unemployment — Stand by Them/ How You Can Help/ Solutions
http://amzn.to/Xgvwcp
Share us on