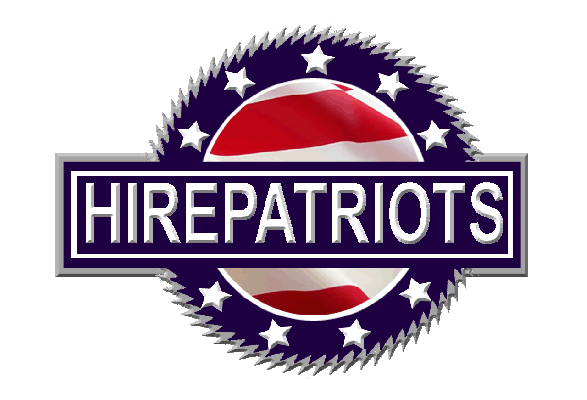 Friends,
Here is information about who we are and what we do. Then I have included a barebones budget at the bottom.
HirePatriots.com started as HireMarines.com. A US Marine knocked on our door desperate to get the utilities turned back on in his house for himself, his wife and their two, small children. We started HireMarines, a simple One Day job board, expecting a dozen jobs a month. Instead, we got 10,000 people a week who visited our job board! –Immediately our website ranked in the top 1% of all US and global websites.
We saw this as a sign from the Lord. We sold our house and began dedicating all of our time, energy and possessions to creating a Christian Helps ministry to US military, veterans and their spouses. — Since 2005 HirePatriots.com has connected over 50,000 US Marines and local residents through its free One Day job board. HirePatriots.com now serves all branches of the US military; and we have local HirePatriots websites and representatives in 41 states.
Patriotic Hearts is the name of our 501c3 non-profit (#20-8599179). We have held numerous job fairs, targeted hiring events, welcome home parties, military marriage retreats, and mentored many veteran owned businesses. We also have created a unique 'cause marketing' business plan in which companies across America participate. Our new book, The Patriotic Business Plan, gives the step-by-step details.
Our efforts have been recognized by US President GW Bush (Congressional Medal of Merit) and by US President Obama (Leadership Service Medal). HirePatriots spokespeople have appeared on TV News stations across America, including FOX National Business News, and NBC Nightly News with Brian Williams. PEOPLE magazine selected HirePatriots as their "Heroes among Us."  GI Jobs placed HirePatriots in their Top 50. L.E.A.D., San Diego's premier business foundation, awarded HirePatriots its Visionary Award for creating economic development. The Oceanside Chamber of Commerce presented us with its Extra Mile Award. And we wrote an award winning book, An American Crisis: Veterans Unemployment.
All of these achievements and accolades have proven to us time and again that God is in charge of HirePatriots.com. My wife and I are convinced that we are merely his workers.
Our bare bones monthly operating expenses are $2057 (see below). But in order to host hiring events, retreats, trainings; and to continue to promote and reproduce our ministry across America it costs much more.  We live as sparsely as possible in order to meet our monthly obligations.
Some people seem to think that running HirePatriots is free. Nothing is further from the truth. Every month, we must come up with about $2000 just to keep HirePatriots.com up and moving forward. Then there are the expenses of hosting our many programs. Easily, in the last ten years we have spent several hundreds of thousands of dollars on building this nationwide outreach. Most of that money came from the sale of our house and possessions. Now, we work everyday to pay each month's expenses and to keep moving forward. Only about 3% of our costs are paid for by supporters' donations.  Tori and I provide the rest.
HirePatriots Essential Monthly Expenses:
Webmaster: $500
Web hosting: $180.00
Software: $25
Insurance: $205.00
Cell Phone: $159.00
Adobe Acrobat: $22
Printing: $75
LinkedIn Premium: $48
Gas: $100
Travel: $300
Clothes: $200
Business meetings: $100
Domains: $15
Wireless: $55
Electric: $85
Total: $2057 a month
There are many more expenses. When we host job fairs, marriage retreats, assist veteran owned businesses, promote One Day jobs, social networking, advertise, computer repair…
Needs:
1)      Prayer: God is in charge. "Unless the Lord build a house they who labor do so in vain."
2)      Volunteer Director: Someone to organize volunteers to spread the word, raise funds and help with events.
3)      Grant writer: We are so well poised to get major grants with all that we have accomplished.
4)      Fundraiser: Someone who can take charge from A to Z.
5)      Printing: We need to get posters and fliers printed.
6)      Legal: We need advice about how to help veterans start new businesses and for reviewing documents we create and sign.
7)      Office space: Many grants require a physical location apart from a residence.
Dreams:
1)      Newer RV. Ours is a very used 1986 25' Bounder.
2)      Truck with 6' bed, back seat and camper shell.
Wildest Dream: to be adopted and fully sponsored by a church, organization or business
Share us on