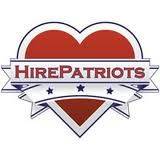 Regardless of the attempts by the US government or corporate America it has never solved US veteran unemployment. Even today with a decade of patriotic fervor and a tremendous effort to get our US veterans into sustainable jobs we still have 800,000 to 1,000,000 US veterans out of work. Disney, Verizon, Walmart, Home Depot and many other major US employers have been making significant efforts to hire our veterans. I raise my arm to salute them. However, the numbers of veterans without a means to support themselves and their families remains relatively untouched. So what are we going to do?
The HirePatriots solution is to create a means for US citizens to join in and to participate in solving this chronic problem. HirePatriots.com provides a free job board for US residents to hire their local active duty, Reserves, Guard and transitioned US veterans and their spouses. When you have chores or repairs around your home, yard or business post it on HirePatriots.com for free and help a veteran in your area earn some money.
Now, many people may ask "How does hiring a veteran for just a day really help?" Let me tell you: It helps far, far more than you can imagine. When a US veteran shows up to help you they show up on time, they stand as straight as a board, they work harder than an ox and when ever you ask them to do anything else they respond with military courtesy and respect: "Yes, Sir!" Or "Yes, Ma'am!" is their answer. — No one else does this, only the citizen patriots who have completed Basic Training in the US military.
NBC News with Brian Williams recently filmed a segment about Our One Day job program. We visited some veterans working at people's homes in San Diego. I asked a 19 yr. old Marine how long he had been taking jobs off of our job board. "For 30 days, sir," he replied. Then I asked how much he had earned since then. "About five thousand dollars, sir." — How could this be?
Our veterans are so courteous and so hard working and such extraordinary people that residents are amazed and absolutely delighted when they hire them. None has ever witnessed such great workers. This causes them to go around to their neighbors, friends and people they know in their community and to tell them about their experience in hiring a veteran and encourage them to do so too. The US military members past and present that use our site quickly develop a 'book of business.' They have consistent and regular customers who support them and get others to hire them too.
US residents can be the answer to providing daily employment for our US veterans. Veterans will be able to support themselves and their families entirely from our jobs, or they can augment what income they already have. Of course, their spouses are welcome to find jobs on our site too.
It has taken 9 years to get US businesses and residents to realize the immense value and worth of our simple veteran hiring program. But finally they are beginning to understand that American businesses cannot accomplish the task of solving veteran unemployment by themselves. It will be US patriotic residents that provide the final piece to the puzzle.
Hundreds of veteran outreaches have received multi-millions in funds from the government, foundations and philanthropists for their efforts. But HirePatriots has been ignored eventhough we are responsible for employing tens of thousands of US veterans a year and provide 14 additional critical free services. We console ourselves by remembering what Jesus said, "The least among you will become the greatest of all."
Join us. Donate to us. Become a HirePatriots member, volunteer, ambassador, sponsor today. We can solve US veteran unemployment once and for all with your help. We have also  created multiple income streams so that you participate in our effort full or part time as our leader in your area of the country.
At your service,
Mark Baird
CEO: HirePatriots.com
Chairman: Patriotic Hearts
mark@hirepatriots.com
760-730-3734
People Magazine's Heroes Among Us
Past Chairman: CA Economic Council
Past Secretary: United Veteran Council
From President Bush: The Congressional Medal of Merit
From President Obama: President's Volunteer Service Medal
From San Diego: The Visionary Award for Creating Economic Development
From the Chamber of Commerce: The Extra Mile Award
From ABC TV: The Leadership Award
From U.S. Veterans & Families: Liberty
From Jesus Christ: Purpose & Eternal Life
| | | | | |
| --- | --- | --- | --- | --- |
| | | | | An American Crisis: Veterans' Unemployment — Stand by Them/ How You Can Help/ Solutions http://amzn.to/Xgvwcp |
Share us on