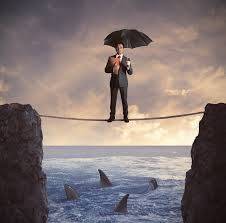 America is producing fewer and fewer new businesses. This is a crisis. The percent of our population in their twenties that are entrepreneurs has plummeted to its lowest rate in 20 years and continues to decline! 92% of US business owners are over the age of 45. Nearly half of them earn more than $100K a year. 70% are male and 30% are female.
Twenty five years ago, 11% of US businesses were owned by citizens under the age of 30. Today that percentage is 4%. Interestingly, US veterans make up less than 3% of our population; yet, they constitute 12% of America's business owners. The reason for this is attributed to military trained citizens having less fear of risk, in fact many have learned to crave it. And risk is certainly a key element of business ownership.
New US business start-ups are now half of what they were in 1980. The plunge in business ownership captured in the Fed survey is an "interesting and worrisome finding," said John Davis, faculty chair at Harvard Business School. — It is critical that our country reverse this dangerous trend. US small businesses generate nearly half of our nation's gross national product.
What can be done?
It begins with our schools system. Most are designed to create employees. Starting from Elementary school through college we need to stimulate entrepreneurial creativity among our nation's youth! We must create leaders, not just followers.
In addition, we need to protect America's small businesses with fair trade regulations, just as we do with foreign countries. Global corporations cannot be allowed to destroy the backbone of our economy, the American small business entrepreneur.
Perhaps most importantly, we all need to practice "America First" before making any purchase. Whenever possible, buy from community businesses that are locally owned.
Mark Baird
HirePatriots.com
Share us on