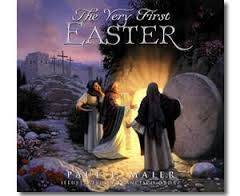 Easter is the most important Christian holy day. It commemorates the day that Christ rose from the dead, three days after his crucifixion. But it begins with his death. On the Friday before his resurrection he had been taken to a cross at about 9 AM. He died at about 3 PM that day. His last words on that cross were: "I have paid the debt completely!"
At that time, the Jewish people were celebrating Passover and sacrificing an unblemished lamb for the forgiveness of all the sins that the people of their nation had committed during that year. The Passover was instituted in Egypt when Moses was asking the Pharaoh to "Let my people go!" God told the Jews to take an unblemished lamb and to put its blood in the shape of a cross on their front doors. That night God sent a death angel to Egypt to slay the first born of every family. But the angel would Passover the homes with the blood of the lamb on them. The next day, at sunrise, the Jews left Egypt for the freedom of the Promised Land, modern day Israel.
We Christians believe that God became human. That is who Jesus is.  God humbled himself and became a human being, so that he could rescue mankind from its sins. He was the Lamb of God. He died once and for all for all mankind so that we would not have to pay the penalty of our sins: death and eternal separation from God. He was the sacrificial lamb for us all. God passes over anyone who has the blood of the lamb protecting them.
And the proof that Jesus was the Messiah (savior) was that he rose from the dead as he predicted. This happened on Easter morning. Jesus was a human that conquered death. And he promises that everyone who believes in him will also conquer death, just as he did. When we die, we will rise again and go to heaven to be with Jesus.
If Jesus had not risen from the dead, then he would have been just a good man or a prophet. But several hundred people saw Jesus after his resurrection. He appeared to his followers and showed them his crucifixion wounds. And in fellowship and in prayer Christians commune with the risen Christ and experience his presence. We all wait in great expectation for the day when we will see him face to face.
Jesus, God in human flesh, paid the price to save us from our sins. The debt is paid. (Remember Jesus' last words?) — Either we believe in a God that loves us that much or we do not. I do. And he is the motivation for me serving veterans and their families. I serve Jesus and show him my gratitude by serving others, as he commands me to do. Jesus was the greatest servant of all!
Mark Baird
Share us on