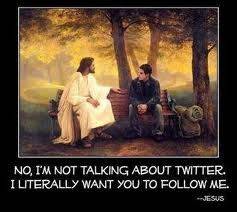 The Christian message is universal. It is a message that unites all humanity together through a recognition and acceptance of our own nature. I think the apostle Paul said it well: "That which I should do, I do not do; and, that which I should not do I find myself always doing."  Christianity declares that none of us is all good all the time. We all struggle with a multitude of things within our characters and personalities that need improvement. Everyone of us does things that we regret, all of us make mistakes, and no one is always unselfish. None has hit the bull's-eye everytime. All of us have missed the target many times. Therefore, Christians believe in a God who forgives us and who asks us to forgive eachother.
The older we get the more we realize this truth. Jesus tells a story about a woman who was sleeping around and who was caught in the act of adultery. A crowd of men dragged her down the street and threw her at the feet of Christ. "In the Law of Moses it says that this woman should be stoned to death! What do you say we should do to her?" Jesus' reply was simple, "Let the one of you who has not sinned throw the first stone." Then it says that "each man dropped his stone and walked away, beginning with the oldest to the youngest."
Our God says, "Do not judge others unless you want God to judge you." In the same way that we forgive others, we will also be forgiven.  We are never to throw 'stones' at others. In fact, Jesus teaches us to love all others so much that even if they attack us we are not to retaliate. "If someone strikes you on the right cheek, turn to him the other cheek."
Christians are taught to be merciful and loving. We are instructed to practice kindness. "If someone asks you to give to them, do so. If a man asks for your shirt, give him your coat too."  — Some consider this weakness, but it is actually the greatest sign of strength. We Christians believe that Jesus Christ was the Messiah promised throughout the Bible. He was "God with us." The creator of all existence came to earth and lived as a man to show us how we should also live. He even allowed evil people to beat him crucify and kill him, although he could have killed all of them anytime if he wanted to.
To be a Christian is to become the slave and servant of all. We are to pour out our lives for others just as Jesus did. "Unless you are willing to pick up your cross and follow my example then you will never find the kingdom of God."
God is love. In fact, we know what love is only because God created us in his image. God showed his love to us by going to the cross and dying, although he did not have to. And just as he has shown us to do by sacrificing his life for others, we are to do too.
Celebrate the true meaning of Christmas this year! Follow in the footsteps of Jesus Christ!
Mark Baird
Share us on