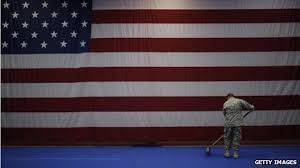 US Military Maintenance is a program of Patriotic Hearts, a 501c3 non-profit. Its purpose is to create US veteran business owners that will employ other US veterans. We send you everything you need to get started in a big box and we provide of all the personal mentoring for getting started and being successful. We also provide a  proven marketing plan that will make you dominate your local market.
The US Military Maintenance (USMM) marketing plan is the result of a decade of development and the expenditure of hundreds of thousands of dollars. It was specifically designed for veteran owned and military friendly businesses. This plan has won several major awards and been the topic of discussion on national and local TV and radio stations. It has been featured in People Magazine. US Presidents GW Bush and Obama have both given it awards. Over 350 US businesses use it.
This plan is called The Patriotic Business Plan: Strategies for Sensation Success (How to leap Over Your Competition). And it is detailed, step-by-step, in a book by that name available on Amazon and on Barnes & Nobles' website.
When you join our US Military Maintenance team as an owner, we will implement this plan for you. You will have many more visitors to your website than any other maintenance company in your state.  Your company will receive voluminous media attention. You will be invited to speak at multiple clubs and chambers and meetings. You will become a recognized veteran advocate in your region and possibly across America.
If you are a US veteran or someone who strongly supports them, consider starting a US Military Maintenance company in your area. It is very inexpensive to start; yet, it is also extremely lucrative. Earning a 6 figure income is very do-able, even in your first year.
Mark Baird
founder@usmilitarymaintenance.com
760-730-3734
Share us on