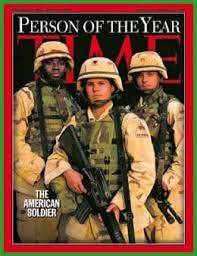 Serving in the US military has many personal benefits. Most new recruits are young men and women whose character has not yet been completely formed. Military training shapes them into confident, disciplined, hard working, courteous citizens.
Everyone in the US military has a job to do. They know that each member is an essential part of the whole. Their job is just as important as anyone else's. Teamwork is a primary principle learned.
Perhaps the greatest benefit of serving our country is purpose. Young men and women need this. We all do. Their job is to protect, defend and preserve our national independence and way of life.
There is also another critical lesson they lean: sacrifice. Military life is generally a difficult life. There are long separations from loved ones. They are often transferred from base to base. They are not paid well, especially our enlisted ranks. And some must face the threat of dying on some foreign soil, many times over.
One of the best things gained from military service is camaraderie. Almost all US veterans feel a strong bond with other US veterans, regardless of branch, age or dates of service. A 70 year old Vietnam veteran will feel a close bond and companionship with an 18yr. old grunt and vice versa.
By and large, nearly cherish. Such people as these are extraordinary. They are indeed "The few." And it is to such exemplary citizens that we all should honor. There service to us should be returned in kind. No able bodied veteran should ever go homeless or be unemployed and impoverished. And it is to that end that HirePatriots perseveres in creating a nationwide employment safety net of jobs for them: one day, part time and full time.
Veterans do not want a handout. They want an opportunity to serve. This is what they have been trained to do. That is all that they ask.
US Residents: Once a month or more, look around your home and yard and hire a local US military man or woman to help you with those chores and repairs. You can do so HERE.
US Companies: Post you job and hire a US veteran Here.
You will be glad that you did. Meeting a US veteran is almost always a delight. They are kind, generous, good hearted citizens who always try their hardest to do outstanding work.
Mark Baird
Share us on