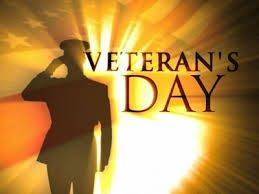 Veterans Day was inaugurated after World War I, to celebrate its ending and to honor the soldiers that fought in it.  The Armistice of that war happened on the 11th day of the 11th month at 1100 hours. Hence, we honor the sacrifices and services of all US veterans on November 11th to this day.
To most, Veterans Day is a day off work and time to relax, party, watch a parade and have fun. And that is normal. It is the same with most US veterans too. It is another needed day of rest.
Since America's emergence as a major world power in the 20th century, our Christian foundations have fostered in us a national conscience that seeks to defend the starving, victims of famine and disaster, and people in any nation that are imprisoned or killed for their race, religion or color. We use our military might to save and defend people, continuously, all over the world. Sometimes, this requires us to become involved in armed conflict with their persecutors. Sometimes, we declare war on dictators and despots. As a result, America is involved in almost every conflict requiring combat forces, and has been for over 70 years, since World War II.
As a result, America has the most formidable military might on the planet. Our destructive capabilities are greater than the rest of the world's, combined. And our military members are the best trained, educated, technically elite, and prepared armed forces anywhere. They are extraordinary men and women. For various reasons they have all volunteered to defend us until death.
More than a million of these highly trained and disciplined US veterans are looking for companies to give them a decent job. 2.5 million Veteran owned businesses need the rest of us to patronize their establishments and purchase their goods and services.
Another way to thank and to support our troops is to give those who need it an opportunity to earn some extra money by helping you with chores and repairs around your home, yard or business. These are one day/ off duty jobs that your local US military and their spouses will reply to. Recent US veterans who have not yet gotten their feet back on solid ground may also apply. – Just describe the job and say where it is and how much you will pay. Then leave your name and phone number. — Go to HirePatriots.com and click One Day Jobs. Give a local US military person, veteran or their spouse a chore to do to help them pay their bills today.
You can also donate to local US veteran charities. I suggest giving to smaller non-profits. The big ones are top heavy with huge salaries. Here are "6 Reputable Veteran Charities to Support." Please take a look at its listing of HirePatriots.com, a program of Patriotic Hearts, a 501c3 non-profit, serving US veterans and their families for 12 years. Check out our charity on GuideStar. 
Mark Baird
US Veteran Employer and Advocate
Share us on